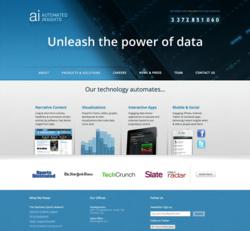 "It is an honor to be recognized by CED, and we are very proud of our recent accomplishments," said Robbie Allen, the company's CEO.
DURHAM, N.C. (PRWEB) May 22, 2012
Automated Insights, a high-growth company with revolutionary technology, has been named one of 25 North Carolina Companies to Watch by CED, the Southeast's largest entrepreneurial support organization. The award honors "growth oriented, second-stage companies headquartered in North Carolina that demonstrate high performance in their market, exhibit innovative products and display other unique qualities that make them worth watching."
The 2012 North Carolina Companies to watch recipients were selected from an initial pool of more than 200 nominations from across the state. According to CED they are privately held companies with six to 99 employees and generate between $750,000 and $50 million in annual revenue.
Automated Insights is a technology company with a proprietary real-time content creation platform. Their technology transforms vast amounts of raw data into compelling narrative content and powerful visualizations. The content is written entirely by software and can be formatted as headlines, summaries and long-form articles. In addition, the content can be published cost-effectively at just about any scale via the web, mobile applications and all types of social media (including Twitter and Facebook).
"It is an honor to be recognized by CED, and we are very proud of our recent accomplishments," said Robbie Allen, the company's CEO. "During March Madness our StatSheet sports network attracted more than 1 million Unique Users, and our recently released Major League Baseball coverage received more than 250,000 Unique Users in the first month of the season. And we are particularly excited about our recent release of STAT.US for Major League Baseball. STAT.US utilizes StatSheet's unique artificial intelligence technology and proprietary database of more than 3 billion statistics to bring live, in-game updates to fans on their favorite players and teams via Twitter."
In addition to its groundbreaking work in sports, Automated Insights is using its technology to help world-class companies better leverage their proprietary data in fields as diverse as finance and real estate.
About Automated Insights, Inc.
Automated Insights, Inc. represents the next revolution in content creation. Automated Insights' technology automatically transforms raw data into compelling narrative content (articles, summaries, headlines), visual displays (charts, tables, graphs) and interactive applications (mobile and Twitter/Facebook–based social applications). In essence, the company uses technology to humanize big data, and automate knowledge and insight at scale. To learn more, visit http://www.automatedinsights.com and http://www.statsheet.com.
###