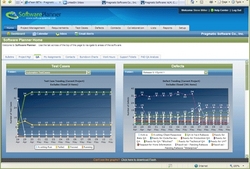 A partnership between Pragmatic Software and AutomatedQA fits like a glove
Englewood, Colorado (PRWEB) May 16, 2009
Pragmatic Software Company, a leading provider of application lifecycle management (ALM) solutions, has partnered with AutomatedQA the developer of the award winning automation tool - TestComplete.
Software Planner is an award winning application lifecycle management (ALM) tool that helps Information Technology (IT) departments manage all components of software development including managing customer requirements, project deliverables, test cases, defects, and support tickets. Software Planner also provides collaborative tools like document sharing, team calendars, interactive dashboards, knowledge bases and threaded discussions and integrates with most of the major automated testing tools. Software Planner is currently being used by over 70,000 users in 24 countries, with companies like Acer Computers and Procter and Gamble managing their software projects with the tool.
TestComplete is an award winning automated testing tool that supports unit, functional, distributed and HTTP performance testing of some of today's more difficult systems. Designed for novice to expert application developers and testers, TestComplete helps teams automate regression tests to reduce time and quality of performing these regression tests manually. TestComplete combines the industry's most feature rich test automation product with an interface and price point that allows any organization to take advantage of the power of automation. TestComplete is being used world-wide by companies like Adobe, eBay, Google, and Microsoft.
"A partnership between Pragmatic Software and AutomatedQA fits like a glove," says Steve Miller, President/CEO of Pragmatic Software. "Software Planner and TestComplete are very complimentary in that Software Planner is a best-in-class tool for managing all phases of the software lifecycle and TestComplete is a best-in-class tool for automating test cases. Both products are feature rich yet affordable. To kick off the partnership, Pragmatic and STAR (http://www.star-qa.com) jointly developed a keyword driven testing framework within Software Planner that allows quality assurance teams to create TestComplete automated test cases without requiring any scripting knowledge. TestComplete automated test cases can be run from within Software Planner and the quality assurance team can view the run results in Software Planner reports and dashboards. This approach provides a software development team a huge advantage in improving their software quality by integrating their automated and manual test efforts via a single interface," adds Miller.
"This partnership is about affordability and usability. For too long test automation and test management have been out of reach for many organizations because of high price points and difficult to use products. The partnership between AutomatedQA and Pragmatic Software breaks that mold by offering best of breed products that are intuitive, powerful and most importantly, affordable," says Derek Langone President of AutomatedQA.
About Software Planner
According to Pragmatic Software, Software Planner is available in 2 versions:
1. Software-as-a-Service (SaaS) Version - Hosted by Pragmatic Software, the SaaS edition manages all phases of the application lifecycle including requirements, test cases, defects, support ticket management, project and task management, automated test integration, document sharing, discussion forums and calendar management. This edition starts at $30 per month (per concurrent user) and modules can be purchased ala-cart.
2. Enterprise Version - Hosted by the client, the Enterprise edition contains all features of the SaaS edition. It also has full integration with Crystal Reports®, a fully documented API, synchronization with other software in your organization and document versioning. This version starts at $ 1,000 per concurrent user (one-time fee) and modules can be purchased ala-cart.
About TestComplete 7
TestComplete 7 is the 'Easiest TestComplete Ever…'. It offers improved ease-of-use for entry-level testers and expands the rich feature set enjoyed by experienced users. TestComplete 7 shortens the learning curve, improves productivity, helps increase automated testing usage and provides more power and control over the automated testing process. TestComplete 7 offers the following features:
1. Keyword Testing allows script-free automated test creation.
2. Automatic Name Mapping makes tests more readable and easy to maintain.
3. User Interface Enhancements include the new Start Page and simplified project display.
4. Enhanced Object Recognition lets you tackle the toughest test scenarios.
5. Web Testing Enhancements support Rich Internet Apps such as Flex, Flash and Silverlight.
6. Third Party Control Support for Infragistics, DevExpress, Telerik, and more.
7. Includes Bugzilla integration and automated testing for Microsoft Windows Mobile apps.
About AutomatedQA
AutomatedQA offers automated software testing tools for development and quality assurance organizations worldwide. The company is known for innovative, award-winning and affordable products for the software development lifecycle, including TestComplete, a versatile automated testing tool, and AQTime, a sophisticated performance and memory profiler. AutomatedQA's customers range from the world's largest organizations to small software development shops. AutomatedQA was founded in 1999 and is headquartered in Beverly, Massachusetts. More information is available at http://www.testcomplete.com.
About Pragmatic Software
Founded in 1992, Pragmatic Software Company, Inc. based in Denver, Colorado is a software development company that provides web-based project management and team collaboration software to over 70,000 subscribers in over 24 countries. For more information on Pragmatic Software, go to http://www.PragmaticSW.com or contact Lynn Miller at 303-768-7480.
# #