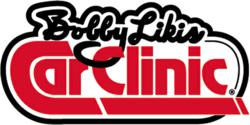 (PRWEB) March 30, 2012
No stranger to victory laps, Allmendinger burned rubber as Rookie of the Year for the Barber Dodge Pro Series, Toyota Atlantic Series, Champ Car World Series and AUTOSPORT International. On Saturday's Car Clinic globalcast, Allmendinger talks about his strategy for the upcoming Martinsville race, as well as spills the details on his motivation for driving the Michael Shank Racing team into victory lane as Allmendinger took the wheel during the final three hours of the 2012 Rolex 24 Hours of Daytona.
Though the key to his #22 Dodge belongs to Roger Penske, Allmendinger will share with Car Clinic listeners and viewers how they could win an impressive key of their own—to a 2012 Dodge Challenger SRT. As spokesperson for Scott® Pro Shop Towels, Allmendinger will toss the keys to the 2012 Dodge Challenger SRT to the winner of the "Take the Challenge" sweepstakes on set at Spike TV in November.
About Bobby Likis:
Bobby Likis is the only car-talk host on commercial radio named to the "Talkers 250," the list of the top 250 talk-show hosts in America for 4 consecutive years. Likis also owns & operates an award-winning automotive service facility. For more information about automotive expert Bobby Likis and the Car Clinic Network, visit http://www.CarClinicNetwork.com.
About Car Clinic Network:
Car Clinic Network is the most extensive car-talk network on commercial radio, including terrestrial broadcast, CarClinicNetwork.com (audiocast live, videocast live & libraried), PalTalk (Bobby's Saturday morning chat room), podcast on assorted outlets (including iTunes & iPhone), globalcast on multiple Internet stations, and CelleCast (on all cell phones, regardless of brand or service provider). "Bobby Likis Car Clinic" also enjoys reach via Social Media, including Facebook, Twitter & YouTube. Car Clinic's Network is one without geographical confines, and automotive consumers everywhere can watch Bobby live from his studio every Saturday during "Bobby Likis Car Clinic" on http://www.WatchBobbyLive.com.
Got a car question of this car expert? Call live every Saturday, 10a-12n ET, 888-Car-Clinic (888-227-2546)
No question? Then tune in for a fast ride every Saturday, 10a-12n ET, Car Clinic live videocast: http://www.WatchBobbyLive.com