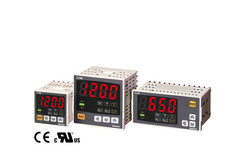 New York, NY (PRWEB) September 5, 2010
After 3 years of development efforts, whole new line of temperature controllers becomes number 1 selling product in the world.
Global Marketing featuring entry-level model TC Series
Korea's leader in industrial sensors and controllers, Autonics declared the replacement of product line up with new generation of temperature controllers. As the largest exporter of temperature controllers in Korea, Autonics plans to focus their marketing efforts to make their temperature controllers to be the number 1 selling product globally.
With 33 years of experience in sensing and control technologies and 3 years of development efforts, new temperature controller lineup (TC/TM/TD/TK Series) adopted the newly developed PID control algorithm an achieved fixed, high temperature control. In addition, development of SSRP output more precise phase control and cycle control possible.
Autonics plans to focus various marketing activities on the new entry-level model, TC Series, putting its performance and competitive pricing as the forefront of its message. Even prior to the official release, due to global buyers' high demands, TC Series has set the record in Korea for highest export sales in the shortest amount of time.
Led by the TC Series, Autonics plans to take their new product line and go after all global temperature controller market. Autonics will continue the generous investment on research and development for variety of temperature controllers and will continue to put efforts in order to become the undisputed global brand.
Autonics economical PID temperature controllers - TC Series, one of the most cost effective temperature controlling solution having essential functions and improved performance, realizes ideal temperature controlling with newly developed PID control algorithm and 100ms high speed sampling. Especially, that both SSRP output and relay output are supported to realize effective and economical controlling ; in addition, improved visibility and compact size is another feature of TC Series.
Major features

Realizing 100ms high speed sampling
SSRP output and relay output embodied together
-SSRP output makes phase control and cycle control possible

Dramatically increased visibility using wide display and high luminance LED
Mounting space saving with compact design
-downsized by approx. 38%(60mm) in depth compared to existing models

Deviation between SV and PV indicatable
About Autonics Corporation :
Autonics Corporation (http://www.autonics.com)
Autonics Corporation, established in 1977, is a leading manufacturer of sensors and controllers in Korea and the No.1 exporting company as well. We produce over 5,000 items that are marketed in more than 100 countries worldwide satisfying customer needs in various fields of Industrial Automation.
Autonics always tries to achieve customer satisfaction with highly qualified, wide ranged products & reliable services through constant R&D efforts and quality management process. Also, Autonics concern the environment management and do the best to meet the international needs in order to become a global IA partner all over the world.
For more information contact us :
Autonics Overseas Business HQs
Tel : 82-32-610-2730
E-mail : sales(at)autonics(dot)com
# # #