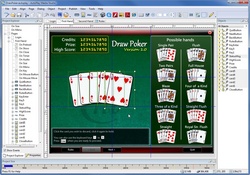 By giving students, hobbyists and open source programmers a free copy of AutoPlay Media Studio 8 Personal Edition, we're hoping to see great ideas come to life.
Winnipeg, MB (PRWEB) July 12, 2010
Indigo Rose Software announces the immediate availability of AutoPlay Media Studio 8 Personal Edition for use on Microsoft Windows 7, Vista and XP. This new version of the company's popular visual software programming environment is being offered free for non-commercial users. The program is designed to help encourage the development of free software applications and utilities by students, hobbyists, open-source programmers and freeware developers.
With AutoPlay Media Studio's WYSIWYG ("what you see is what you get") object-oriented development environment and powerful, yet easy-to-use scripting language, even beginners can create professional software applications. It's ideally suited for developing graphically rich multimedia software applications, autorun/autoplay menus, internet utilities, video games and interactive training software - complete with features like database connectivity, dialog boxes, web interaction, data visualization and multimedia audio and video playback.
"We really wanted to give something back to the community," says Indigo Rose Software President Colin Adams. "There are a lot of aspiring programmers out there that have great ideas for new software products, but they don't have any way to realize those ideas. By supporting them with free software development tools and an online programming forum, we're hoping to see these ideas come to life."
AutoPlay Media Studio 8 includes 21 built-in visual interface objects, including buttons, images, menu bars, QuickTime video, data grids, PDF viewers, web browsers, checkboxes and more. It's as easy as dropping the objects onto a page or dialog box and then customizing their properties and events.
With over 865 high-level scripting actions, programmers can easily add powerful functionality to their application, like XML parsing, database queries, web server interaction, file transfers and much more. Plus, it's easy to expand the language with dozens of plugins and code modules - many created by other users. Additionally, the professional script editor features color syntax highlighting, code completion, function highlighting, as-you-type action prototypes, function listings, and context-sensitive help.
AutoPlay Media Studio 8 Personal Edition is compatible with Microsoft Windows 7, Windows Vista and Windows XP. Personal, non-commercial users can download it for free from http://www.autoplay.org. Business and government users can purchase the 'Professional' version of AutoPlay Media Studio 8 for $295 (USD) per developer (or $995 for the 5 developer Team Pack) from most software development tools vendors or online at http://www.indigorose.com.
About Indigo Rose Software Design Corporation
Privately held, Indigo Rose Software has been developing innovative software products and multimedia authoring tools since 1991 that are used by thousands of corporate, government and ISV customers around the world. Indigo Rose is headquartered in Winnipeg, Canada, and can be found on the Internet at http://www.indigorose.com.
###