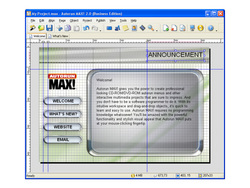 First impressions are everything. Customers and clients expect to see a graphical autorun menu appear when they insert a CD/DVD-ROM. Autorun MAX makes it easy to create a reliable, professional autorun menu, whether you are a software programmer or not.
Winnipeg, MB (PRWEB) July 30, 2010
Indigo Rose Software announces the immediate availability of Autorun MAX 2.1. Autorun MAX is designed to make it easy for software developers to create autorun menus for use on CD's, DVD's and USB drives.
This professional autorun creator software is from the developers of the industry-standard AutoPlay Media Studio. Autorun MAX shares many of the same features, and all of the same reliability, but in a more streamlined form. It was designed so that even non-programmers can use it to create visually-impressive multimedia autorun menus for software, training applications and presentations.
Like its bigger brother, Autorun MAX features a completely visual drag and drop development environment with built-in support for video, photos, text, buttons and music. It can launch any kind of file, from executables and installers to PowerPoint, PDF, Word and Excel documents. It can also open web browsers, email programs and much more.
Unlike AutoPlay Media Studio however, there's no programming at all. In fact, it's easy enough for anyone to use. Simply drag and drop your media content onto a blank page and arrange the layout with your mouse. Then, simply choose from a drop-down list what you'd like to happen when one of your menu items are clicked on. There's no programming knowledge required. Autorun MAX makes it fast and easy to author and distribute professional multimedia software, even for absolute beginners.
Autorun MAX includes a gallery of professional templates and ready-to-use content, including backgrounds, buttons, panels and sound effects to get you started. With templates included for software installation, document browsing, CD business cards and more, it's quick to get your autoplay project off on the right foot.
Autorun MAX also includes features that are normally only found in much more expensive products. Things like page transitions, custom window shapes, multi-channel audio mixing, image transparency with full alpha blending, spell checking, integrated CD burning and publishing to an email or web-ready single-file executable.
With its drag and drop design, software developers will be able to quickly create dozens of popular multimedia projects like CD business cards, computer based training (CBT) applications, CD autorun menus, custom web browsers, interactive presentations and more.
Autorun MAX is available now for use with Microsoft Windows 7, Windows Vista and Windows XP. Pricing starts at $49 (US) for the Home Edition or $129 for the Business Edition. Online ordering is available from the Autorun MAX web site at http://www.autorun.com.
About Indigo Rose Software Design Corporation
Privately held, Indigo Rose Software has been developing innovative software products and multimedia authoring tools since 1991 that are used by thousands of corporate, government and ISV customers around the world. Indigo Rose is headquartered in Winnipeg, Canada, and may be found on the Internet at http://www.indigorose.com.
###