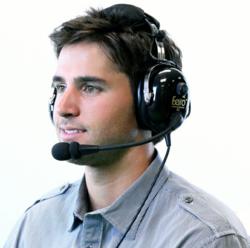 Santa Clara, CA (PRWEB) March 11, 2013
Pilots with a knack for photography have a chance to parlay their camera skills into a free aviation headset. FARO Aviation, a California-based manufacturer of aviation headsets and accessories, is giving away a G2 ANR Aviation Headset to the person who submits the most popular aviation-related picture.
As part of its marketing campaign, FARO is seeking an original aviation picture to serve as its Facebook cover image. Rather than try to come up with the image in-house, the company has decided to solicit submissions from the public in a Facebook-based contest. U.S.-based applicants may submit their original pictures for consideration until 3pm PT on March 15 for a chance to win the G2 ANR aviation headset.
This is not the first time FARO has given away a headset on Facebook. Earlier in the year the company offered a G2 PNR Headset to the first respondent who could identify a mystery airport depicted on an airport diagram.
FARO, a subsidiary of UNorth LLC, has become a growing presence in the aviation headset market in recent years. Though the company originally specialized in high-volume orders for flight schools, airlines, and government entities, FARO began offering its models for direct sale in 2010.
The G2 ANR Pilot headset is the company's current flagship model. It provides up to 30 hours of active noise reduction on a pair of AA batteries, is equipped with noise-cancelling electret microphone, and provides 26 db of noise reduction. Additional features include silicone gel ear seals, an extra-large soft head pad, and a 3.5mm auxiliary audio cable that is MP3/radio/iPhone/iPod/iPad/Android compatible. As with all FARO products, the G2 ANR headset is engineered in the USA, features a 3-year replacement warranty, and comes with lifetime wear and tear protection. The unit, which retails for $349, will be shipped to the contest winner at no cost.
To be eligible to win, contest participants must be U.S. residents and must own all rights to their submitted images. For more information on the contest and the G2 ANR headset, visit FARO Aviation's Facebook page.
Contact:
UNORTH – FARO Aviation
PO BOX 1116
CAMPBELL, CA 95009
1-855-359-3276
1-408-378-7629 (fax)
http://www.flyfaro.com