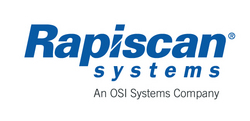 We greatly appreciate the opportunity to work with GAP to help it implement a world-class baggage screening solution for the airports it manages.
Arlington, VA (Vocus) January 20, 2010
Rapiscan Systems, Inc., a leading global supplier of security inspection solutions, today announced that it has been awarded an approximate $35 million contract from Grupo Aeroportuario del Pacifico (GAP) for a turn-key aviation security project for the construction and installation of baggage handling systems integrated with the Rapiscan MVXR5000 high-speed multi-view X-ray hold baggage screening systems at multiple Mexican airports.
GAP operates 12 airports throughout Central and Northern Mexico including the major cities of Guadalajara and Tijuana and tourist destinations such as Puerto Vallarta, Los Cabos, La Paz and Manzanillo.
OSI Systems' (Rapiscan System's parent company) Chairman and CEO, Deepak Chopra, stated, "Rapiscan is unique in its track record and ability to provide a broad range of aviation security solutions. As such, in a competitive process, GAP has chosen Rapiscan as the provider of the most effective and efficient proposal to meet this project's complex and stringent requirements. We believe that our combination of a successful track record, cost-effective, state-of-the-art technologies and efficient services make us an ideal supplier of aviation security systems for fast-growing emerging markets such as Latin America."
Rapiscan System's President, Ajay Mehra said: "We greatly appreciate the opportunity to work with GAP to help it implement a world-class baggage screening solution for the airports it manages." Mr. Mehra continued: "The Rapiscan MVXR5000 is an excellent solution for rapidly growing markets that need superior threat detection, throughput, and reliability."
The Rapiscan MVXR5000 system is a multi-view dual-energy X-ray imaging unit that enables advanced automated explosives detection, class leading image quality and low false alarm rates. It has been deployed in airports worldwide and has the ability to scan up to 1,800 items per hour. The solution is part of the Company's family Hold Baggage Screening product line and its air cargo screening solution offerings. The MVXR 5000 has been deployed in airports, airlines, freight forwarders and other air cargo companies globally.
About Rapiscan Systems
Rapiscan Systems, a division of OSI Systems, Inc. is a leading supplier of security inspection solutions utilizing X-ray and gamma-ray imaging, and advanced threat identification techniques such as neutron and diffraction analysis. The company's products are sold into four market segments; Baggage and Parcel Inspection, Cargo and Vehicle Inspection, Hold Baggage Screening and People Screening. The company has an installed base globally of more than 70,000 security and inspection systems. The Rapiscan Systems product line is manufactured at four locations and supported by a global support service network. For more information on Rapiscan Systems, please visit http://www.rapiscansystems.com.
This press release contains forward-looking statements within the meaning of Section 27A of the Securities Act of 1933, as amended, and Section 21E of the Securities Exchange Act of 1934, as amended. Such statements include information regarding the company's expectations, goals or intentions about the future, including,, expectations for the successful completion of the above-described project, and the Company's future sales in emerging markets. The actual results may differ materially from those described in or implied by any forward-looking statement. In particular, the timing, and delivery of the inspection systems may not ultimately remain in line with the company's current expectations. Other important factors are set forth in the Securities and Exchange Commission filings OSI Systems, Inc. All forward-looking statements speak only as of the date made, and the company undertakes no obligation to update these forward-looking statements.
###