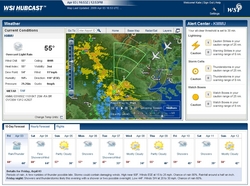 Andover, MA (PRWEB) October 12, 2010
WSI (Weather Services International) today announced Hubcast 2.1, the newest release of its popular Hubcast™ airport decision support application. In addition to providing lightning strike alerts and comprehensive forecasts of impending weather events, this latest version also offers an optional flight tracking service plan that provides ground operations personnel with ASD (Aircraft Situational Display) capabilities.
"Hubcast 2.1 enables operations staff to monitor terminal area or national-level weather conditions. It also tracks arriving, departing and enroute flights, in one affordable, easy-to-use service," said Paul Devlin, WSI's Hubcast Product Manager. "Flights can be filtered though intuitive, user-defined filters to show only those that are relevant. This most recent WSI Hubcast version was specifically designed for aviation professionals who previously had to subscribe to three or more different services to get this level of functionality."
Featuring WSI's powerful Interactive Map technology, Hubcast also provides direct access to WSI's industry standard aviation weather products including: WSI NOWrad® radar imagery, 100 NM radius real-time lightning, Radar Summary with Echo Tops (which shows the direction and movement of hazardous storms), METARs and TAFs, as well as plain English current conditions, hourly and 10-day forecasts. Hubcast delivers a high resolution map display centered on the airport, clearly showing the location and movement of weather, which takes the guesswork out of planning for disruptive weather events.
In contrast to services that summarize multiple lightning strokes as a single flash event, WSI Hubcast leverages real-time lightning detected by WSI's North American Precision Lightning Network (NAPLNSM), a stroke detection network that identifies and reports each lightning stroke for improved safety and decision support. (A flash event is comprised of multiple strokes that may be several nautical miles apart, in some cases, farther.) WSI's NAPLN is capable of 95% or better ground stroke detection efficiencies, including Canadian coverage.
Using Hubcast's intuitive user interface, aviation operations managers can monitor and manage disruptive weather events with confidence. The service also provides visual and aural alerting of weather hazards when viewed on any Internet-capable PC. Yet, it can be safely closed and alert monitoring will continue to run uninterrupted.
When a lightning hazard is detected, WSI's Hubcast service alerts ramp up to warn employees via SMS text message or email, eliminating the need to install and maintain costly onsite sensors. When a strike is detected in either of the user-defined caution or warning ranges, Hubcast sends an alert to the mobile phones of employees indicating the range to and bearing of the strike.
Learn more about WSI Hubcast 2.1 at WSI's Booth # 6037 at NBAA 2010 in Atlanta, October 19-21.
About WSI Aviation
WSI, the most trusted weather decision support provider in the aviation industry, provides a proactive, aviation, operation management suite ensuring common situational awareness and continuity in decisions through every phase of flight. WSI HubcastTM is an integral component of this flight support solution which includes WSI Pilotbrief® preflight planning and InFlightTM datalink for pilots, as well as WSI FusionTM dispatch application. WSI also operates a Global Forecast Center staffed by experienced aviation meteorologists who produce operational terminal and enroute forecasts globally.
Collectively, the WSI solution streamlines workflow and enables common weather situational awareness through all phases of flight, improving operational confidence, communications, flexibility and decisions among key flight stakeholders. The result is improved safety and efficiency.
About WSI Corporation
WSI (Weather Services International) is the world's leading provider of weather-driven business solutions for professionals in the aviation, energy and media markets, as well as multiple federal and state government agencies. WSI is a member of The Weather Channel Companies and is headquartered in Andover, Massachusetts with offices in Birmingham, England. The Weather Channel Companies are owned by a consortium made up of NBC Universal and the private equity firms The Blackstone Group and Bain Capital. More information about WSI can be found at http://www.wsi.com.
Contact:
Linda Maynard
WSI Corporation
(978) 983-6715
lmaynard(at)wsi(dot)com
Editorial Contact:
Barbara Rudolph
Rudolph Communications, LLC
(781) 229-1811
bjr(at)rudolphcommunications(dot)com
###