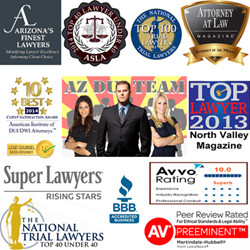 As an experienced DUI lawyer in Tempe, AZ, there is no better reward than the satisfaction of DUI clients
Tempe, AZ (PRWEB) June 09, 2015
Tempe DUI lawyer Brian Sloan who is a Founding Member of The DUI Team was recognized by Avvo with the Clients' Choice Award for 2014, for reviews submitted by clients in the areas of DUI and Drunk Driving Defense. Avvo is a national organization that provides an expansive online tool that helps individuals evaluate attorneys in various practice areas, ranging from DUI and related drunk driving offenses, to felony criminal charges, as well as all other types of legal matters.
Tempe DUI defense Attorney Brian Sloan received the Clients' Choice Award for the year 2014 as a result of the quality and quantity of client reviews he received in the areas of DUI and Drunk Driving Defense. Examples of excerpts from reviews Attorney Brian Sloan received include the following: "Brian Sloan literally helped save my life. I was arrested (wrongfully) and was facing time in jail, loss of driving, etc. Everything I knew and loved (my husband, my children, and my career) was hanging in the hands of the justice system. Brian was there every step of the way, and was there via text, call, and e-mail, any and every time I needed him." Another reviewer of Attorney Brian Sloan offered the following excerpt: "I was charged with a 2nd DUI, had suspended license at the time police stopped me. I could have been facing felony charges, found Brian online best decision I ever made."
"As an experienced DUI lawyer in Tempe, AZ, there is no better reward than the satisfaction of DUI clients, who typically come to me suffering from tremendous anxiety and fear of what the repercussions of their situation may be on their future, getting their charges reduced or completely dismissed," says Attorney Brian Sloan of The DUI Team.
"It's always nice to hear positive feedback from clients. I know my hard work, experience and dedication on their behalf is appreciated," said Attorney Brian Sloan. "It's an honor to receive an award that reflects that appreciation that comes directly from my clients. 100% of the practice is focused on defending people accused of drunk driving, prescription drug or illegal drug related DUI cases in Tempe and throughout the Phoenix Area. Many of these cases are very common but often involve complex legal and scientific issues that require a careful eye and a lot of experience to be handled right. We provide a thorough legal analysis of issues that may provide the basis of a challenge with the courts, we call this an intelligent defense. Part of that process is establishing reasonable expectations."
The DUI Team is a drunk driving defense law firm based in Tempe, Arizona. Tempe DUI lawyer Brian Sloan is committed to fighting for the rights of individuals charged with DUI, including challenges to sobriety checkpoints, breathalyzer results, unlawful traffic stops, field sobriety tests, probable cause, and the full range of challenges available in drunk driving cases. For a no cost consultation call (480) 382-5562 to speak an experienced lawyer in Tempe.
The DUI Team
60 E Rio Salado Pkwy
#900d Tempe, AZ 85281
(480) 382-5562