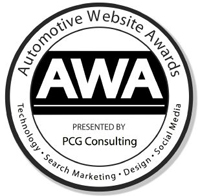 Las Vegas, NV (PRWEB) September 06, 2012
KPA was one of the finalists this year being recognized with an AWA for Peak Performance Websites. KPA's JD Rucker was honored with the 2012 AWA Lighthouse Award for his work with car dealers and his accomplishments in the industry. The AWA Lighthouse Award recognizes one individual in the automotive community who serves the online community unselfishly with thoughtful articles, encouragement, and engagement. Past winners include Jared Hamilton of Driving Sales and Alex Snyder of Dealer Refresh.
The 2012 Automotive Website Award ceremony was held at the Aria Hotel and Casino in Las Vegas. Over 600 automotive industry professionals attended this prestigious awards ceremony, which identifies the most innovative technology and software solutions for automotive retailers.
This year, 41 awards were presented to companies and individuals that represent innovative solutions for car dealers in the areas of website design, mobile technology, social media, proactive chat, merchandising tools, CRM, reputation management, advertising, customer service and industry thought leadership.
The AWA is the highest recognition for companies that assist the automotive retail industry to operate more effectively. The honorees are selected after a rigorous testing and evaluation from the staff at PCG Consulting. PCG is a leading consultancy firm that assists car dealers with best practice solutions for business operations and marketing.
The AWA ceremony was held in conjunction with AutoCon 2012, which exceeded all records for first year attendance at an automotive conference. AutoCon has set itself apart by offering an innovative conference format with an all-inclusive attendee package that has changed the dynamics of automotive conferences.
About KPA:
KPA is a dealer services and Internet marketing provider for over 4,000 automotive, truck, and equipment dealerships and service companies. KPA provides consulting services and software for three industry-specific product lines: Environment & Safety, HR Management, and Internet Marketing.
About PCG Consulting:
PCG Consulting, Inc. provides vendor-neutral recommendations for products and services that can assist dealers to increase sales and profits. The company was formed to meet the needs of car dealers who need assistance in creating effective processes, measurement standards and intelligent reporting for their business operations.