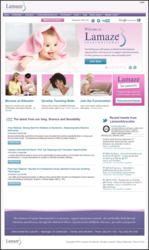 We are honored to recognize Socious and Lamaze International through this awards program.
Mesa, Arizona (PRWEB) November 20, 2012
The Society for New Community Research has awarded online community software provider, Socious, with a 2012 SNCR Commendation of Merit in the external communications and communities category. Socious is being recognized along with Lamaze International, the leading provider and advocate of pregnancy and parenting education, for its work building online communities for parents and childbirth educators.
"We are honored to recognize Lamaze International and Socious through this awards program," commented SNCR Senior Fellow Paul Gillin, chair of the SNCR Excellence Awards committee.
The prestigious awards program honors individuals and organizations that are pioneering the use of social media and Internet communications technologies (ICT). The commendation was presented to Socious and Lamaze at the 7th Annual SNCR Symposium & Awards Gala held at the Stanford Park Hotel in Palo Alto, CA on November 8-9, 2012.
"While the right technology is important, the success of an online community is often determined by a company's strategy and how they use our platform. Lamaze is an innovator in combining the content, event, and social community-building features to expand their engagement footprint," said Scott Balthazor, President and Co-Founder of Socious .
Using Socious' all-in-one online community platform, Lamaze developed a pair of social websites to increase and sustain engagement among target audiences with distinct needs - parents and professionals.
"Using the features that Socious has established for our newly redesigned websites, we are able to provide parents and educators with an enhanced platform to learn and connect. Lamaze is excited to be recognized by the Society for New Communications Research for this achievement," said Lamaze President Tara Owens Shuler, MEd, CD(DONA), LCCE, FACCE.
Award nominations were submitted as case studies, and reviewed by a panel of SNCR Fellows. In addition to the top award winners in each division and category, Commendations of Merit and Commendations of Excellence were presented to nearly 11 other organizations that submitted case studies in the awards program. In its seven-year history, SNCR has honored nearly 200 organizations and individuals through this prestigious awards program and all the winning case studies will be published on http://sncr.org.
About Socious
Founded in 2002, Socious (socious.com) offers the industry's most complete online community software to large and mid-sized businesses, associations, and user groups. The Socious platform includes private social networking, customer communication tools, social crm segmentation, forums, collaboration tools, and a full mobile platform to help organizations increase sales, retention, and member engagement. Take an online tour of Socious online community software.
About Lamaze International
Lamaze International promotes a natural, healthy and safe approach to pregnancy, childbirth and early parenting practices. Knowing that pregnancy and childbirth can be demanding on a woman's body and mind, Lamaze serves as a resource for information about what to expect and what choices are available during the childbearing years. Lamaze education and practices are based on the best and most current medical evidence available. Working closely with their families, health care providers and Lamaze educators, millions of pregnant women have achieved their desired childbirth outcomes using Lamaze practices. The best way to learn about Lamaze's steps to a safe and healthy birth is to take a class with a Lamaze certified instructor. To find classes in your area, or for more information visit http://www.lamaze.org.
About the Society for New Communications Research
The Society for New Communications Research is a global nonprofit 501(c)(3) research and education foundation and think tank focused on the advanced study of the latest developments in new media and communications, and their effect on traditional media and business models, communications, culture and society. For more information, visit http://sncr.org.
###