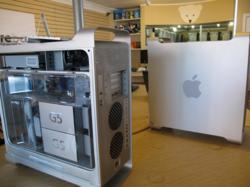 Aware Bear Computers Reviews the top 5 Computers for 2013.

Pittsford, New York (PRWEB) November 16, 2012
#5 HP Pavilion Desktops
Aware Bear Computers' technicians fixes tons of HP Desktops and laptops that come in for repair every week making these bad boys really popular amounts the people of Rochester NY. However one pattern that is observed is that usually when Aware Bear Computer technicians are dealing with the desktop line from HP, they are built pretty solid. Over 87% of the HP desktops that do come into the store are simply being serviced due to a virus issue or any other Microsoft Windows related issue. The few HP desktops that come into Aware Bear Computers with hardware issues are much older and the pattern as follow: Either power supply related (usually after a storm) or an old hard drive starting to go. Fan issues may be common issue as well since after a while, they may be worn out. In that case Aware Bear Computers will notify the customer and get that extra fan installed for the low price of $19.
#4 Toshiba Laptops
Toshiba laptops are great! You have to be a bit careful because the outer shell not as tough as a Panasonic Tough Book, however the laptop itself is designed magnificently and Aware Bear technicians do not see many come in with any special issue other than viruses, or if someone dropped it. The air inside these notebooks circulate well, keeping the motherboard and processor cool and well ventilated prolonging the life of these laptops. Toshiba was one of the first companies to ever built a laptop so they know what they are doing. They are nicely priced, a bit more expensive than the cheaper ones however you really do get what you paid for when buying a computer. For customers who do not want to spend crazy amounts of money, yet they want a computer to last we do recommend the Toshiba Satellite series.
#3 Sony Vaio Notebooks
These computers are just all around well built. These laptops are made of a tougher plastic than the Toshibas and they are built about the same quality when it comes to cooling system and their "guts". Being a Japanese company along with Toshiba, you can expect great products, "...between the two (Toshiba and Sony) it's almost like choosing Hondas and Toyotas." mentions Arthur Alves of Rochester NY and CFO of Aware Bear Computers. In terms of price, they are more expensive side than most laptops but they are worth it and recommended to anyone who does not want to deal with future notebook issues.
#2 IBM /Lenovo
Everyone remembers IBM, the original Windows PC, back when the choices you had were either IBM or Apple. Yes! they are still alive and yes they are great." IBM has become Lenovo, owned by the Chinese now and I know what you are thinking and we did too" mentions Pete Klausz of Aware Bear. Once IBM turned into Lenovo, everyone assumed that the quality was going to fall, however this is not true. First everyone must be reminded that Apple computers are all build in China and so are many computers in this top list. "I had a chance to visit China and let me tell you. The China of today is not the same as the China of 20 years ago. They have invested and have the capability of producing the highest quality products in the World! I know this is horrible for the American economy, but it is true." mentions Andre Leite Alves founder of Aware Bear who's favorite computer is his Lenovo laptop. Lenovos are tough and really well built, they can resist shocks that other laptops can't.
#1 Apple
By far the best built line of computer products on the market today. While all other companies are fighting with each other to give the customer a cheaper solutions Apple is not. They are expensive, they do not go on sale nor will they ever. The reason behind this success is that Apple products are more concerned about quality than anything else. Their computers rarely have any hardware issues and they usually last a long time. "I tell our customers the truth, that if everyone had Apples, we would be out of business because they don't break. Aware Bear computer technicians do fix apple computers, iPhones, and iPads but it is usually due to mishandling of these products by the customer (such as dropped on the floor, or spilled water)
By no means Aware Bear Computers, is saying that other companies are incapable of building good computers. This is a list based on one store's repair catalog in one city. Aware Bear technicians have seen good computers come from every single manufacturer. Some great manufactures that have not made this list include Dell, Gateway, Acer, E-Machines, Averatec, Samsung, Asus, Vizio, Alienware and many others. Any of these manufactures listed are fully capable of building great products as well and the bottom line is to do some research on a specific model before purchasing a new computer or laptop. Remember, the Panasonic Tough Book did not make the list, however it is highly recommended and very well built.