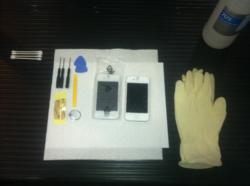 Aware Bear Pittsford offers fast and affordable Apple iPhone 4 and 4s repairs in Rochester, NY
Pittsford, NY (PRWEB) August 23, 2012
"At Aware Bear Pittsford, NY we understand how frustrating it is to have a broken screen on an Apple iPhone 4 / 4s phone. With that in mind, Aware Bear Pittsford, NY is offering a $95 in store screen repair special good till the end of August 2012", said owner Andre Alves from Aware Bear Pittsford, NY.
Aware Bear Pittsford, NY is located on 5 Monroe Avenue 14534. The store's phone number is (585)473-7035. Aware Bear is open Monday – Friday 10am to 6pm, Saturdays 11am – 3pm and closed on Sundays and major holidays.
Besides fixing, repairing and replacing Apple iPhone 4 / 4s in Rochester, NY, AwareBear also offers iPad repair and services for all the greater Rochester area. Apple iPad and Apple iPhone owners now can use a local and family owned business in the greater Rochester, New York area in order to get all Apple repair and services without the need to ship the items to an unknown location.
"We had Aware Bear Pittsford, NY services both an Apple iPhone and an Apple iPad, somehow I was able to drop the phone on top of the iPad and crack both screens. Aware Bear was able to fix both devices and save me a lot of money. I recommend Aware Bear Pittsford to anyone in Rochester, New York looking to get their iPhone or iPad fixed," said Andreas Alvesz from Rochester, NY
Aware Bear Pittsford reminds everyone in Rochester, NY about the $95 Apple iPhone screen replacement. The special is good till August 31st 2012. The regular screen replacement price is $130.
For more information please visit Aware Bear Pittsford, NY official website: http://awarebear.com or call (585)473-7035.