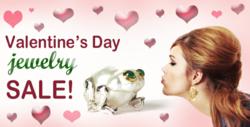 "We put a lot of thought into which designers we add to the site...[and]... how customers discover which designers or jewelry pieces they will love.
Houston, TX (PRWEB) January 23, 2013
Jewelry presents are one of the most classic Valentine's Day gifts. But how do you take a classic and keep it from being boring or predictable? Enter ewelry boutique, Amatyzt.com, whose awesome new jewelry and watch collections vary in price from the affordable $10 fashion jewelry to exquisite, one of a kind Patrick Jerer award-winning designer necklace at $14,500. The site also carries one of a kind Unity Watches that start at $1000 and limited edition luxury sports watches from legend of motor sport, Stefan Johansson, whose Vaxjo Mark VIII collection start at $7,500. Although buying jewelry gifts online is a lot easier than going from store to store, Amatyzt.com realized that searching through a large and diverse inventory of jewelry can still be cumbersome.
Of course, the site has the standard categorization that includes bracelets, earrings, necklaces, pendants, rings, and watches. But customers can also sort through the entire jewelry collection on Amatyzt.com according to their own requirements. For instance, if they want to have a look at the most recent jewelry online, they can do so easily by going directly to the New section from the top navigation bar. It is also common to be able to filter all jewelry according to a predetermined price range or sort any category by price, all of which is available on Amatyzt.com.
But Alexa Ronngren, founder of Amatyzt.com, believes in originality. All the awesome jewelry on her site is designed by specially chosen innovative designers from all over the world. Therefore, in addition to the normal categories of bracelets, charms, pendants, earrings, necklaces, rings and watches, Amatyzt ensures that people have other ways to discover jewelry on the site.
Since the site focuses on exceptional designer jewelry, Amatyzt's homepage has a banner slideshow introducing all of its jewelry and watch designers on it. This gives customers a quick feel for the style of each designer. By clicking on any banner they like, the customer can go straight to that designer's collection. When looking for Valentine's Day gifts, some customers prefer to use Amatyzt's Style Guide to find awesome jewelry that fits the style preferences and fashion personality. So Amatyzt created a Shop by Style category to help customers find jewelry that fits their style. All designer jewelry has been categorized according to the fashion personality who is most likely to love it.
"The main objective of Amatyzt.com is to enable customers to easily find jewelry online that they love. Since buying jewelry requires a high involvement, Alexa has innovated the way her customers can find jewelry for sale online," added a company spokesperson, "In addition to helping customers find exactly what they want, this system also helps customers feel confident when buying gifts for someone else." Amatyzt's collection of awesome jewelry come in a variety of different looks. Some use stones such as, sparkling diamonds, pearls, amethysts, turquoise, smoky quartz, tourmaline, and other gemstones. Other designs use more exotic materials like ancient Roman river glass, coral, and even yarn! Some designers create jewelry just in precious metals. Customers are welcome to search the site for anything specific they want.
ABOUT AMATYZT AND ITS DESIGNERS
Amatyzt.com is an online jewelry boutique that specializes in unique designer jewelry by notable designers from all over the world. Founder Alexa Ronngren came up with the idea after meeting an award winning jewelry designer who despite having talent and accolades didn't have the marketing knowledge to promote her brand. Coming from a family with four generations in the gemstone business, Alexa has been able to curate a special collection of beautiful, high quality jewelry, watches and accessories on Amatyzt.com. Some designers are international award winners, others are well respected in their home market, and a few are emerging stars just starting to get discovered. The site's handpicked international array of designers includes Maria Moreno from Argentina, Mikky Eger from Milan, Atelier Orafo from Florence, Patrick Jerer from Beirut, Posse & Rake and Perihan Tufan from Australia, Sissai from Peru, Gwel and Unity Watches from Barcelona, Leonor Heleno from Paris, and PavlinaJewel from Athens. Designers based in the US include Pia Cevallos, ShinYi, Georgean Beauty, and Alex Klien. Despite coming from different corners of the world, they all share a passion for creating interesting, gorgeous, and uncommon jewelry.