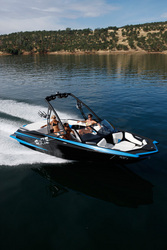 The A20 offers convenient size, usable design and stylin' performance for a price that comes in under budget.
Loudon, TN (Vocus) August 20, 2010
Axis Wake Research is now bringing their brand's focus of simplicity, style and performance to market in a new 20-foot package. The new 2011 Axis A20 is designed for riders and families with room for 11 and versatile wakes that can morph from mellow to pro-level. Maintaining the look of the Axis A22, the new A20 adheres to the core values of this uncomplicated boat brand with a small stature for towing and size restricted lakes. The A20 offers convenient size, usable design and stylin' performance for a price that comes in under budget.
Additional Links
Axis A20 YouTube Video
Axis A20 Flickr.com Gallery
Axis A20 del.icio.us Bookmarks of Continuing Coverage
The Size
At 20 feet long from bow to stern the A20 is designed to be as convenient to tow and store, as it is fun to drive and ride. The A20 is the perfect solution for families who ride on boat length-restricted lakes, garage their boat or tow with a mid-sized vehicle. The goal for the A20 is to provide as much interior room and wake performance as a much larger wakeboard boat in a more manageable package. Thanks to A20 hull design and a rider-centric interior layout, Axis Wake Research has succeeded in their quest to create a 20-foot boat that does not compromise convenience, comfort or performance.
The Wake
The Axis Wake Research Team modeled this 20-foot boat after the A22 to kick-up pro caliber wakes. An un-weighted A20 has a very mellow and extremely stable wake, perfect for beginners and skiers. However, when you combine the standard Wakebox 800 Ballast System with the available Plug-N-Play ballast system and auto-set wedge, this wake will keep even pro riders amped.
Being the only standard hard tank, sub-floor wake enhancement system available in the price-point class, the Wakebox is comprised of three hard ballast tanks mounted below the floor in both the rear and center of the boat, totaling 800 pounds. Opt for the Axis Plug N' Play Ballast System and add up to 1300 pounds or more to your A20 in the form of custom designed Fly High sacks. The Plug N' Play ballast fits nicely in the rear storage lockers and in the bow under the seat cushions, leaving room for storage in both areas. All locations can be filled and drained with switches on the dash. Looking for another 1000 pounds of displacement? Add the exclusive Axis Auto Set Wedge and you will bring your wake footprint to nearly 3100 pounds of displacement. All of this without compromising floor space and barely encroaching on your storage areas.
The Interior
The A20 has room for 11 with lounge seating covered in corrosion-resistant G&T Premium Grade 30 oz. Marine Vinyl. The under-seat storage can swallow all the gear and more. Under-seat storage lighting is available for function and chill factor in red, white or blue LED colors. The machined aluminum AXray kick panel offers enough visibility to keep track of your items along with an amazing look, especially when lit. The ballast-free rear storage area is unobstructed and offers an above engine storage bin to gently warm those chilly wakeboarding accessories like wet suits, rash guards and life vests. Seating is customizable for a variety of riding situations and there is plenty of room for all your friends and family. The rear seat is branded as SkyBox seating and gives passengers VIP treatment with a removable bench that can be positioned anywhere in the center of the lounge. Axis also designed the available ChillAX convertible walk-through seat to accommodate another wake sport spectator and provide a back rest for an additional passenger in the bow. Studded with stainless bead-blasted grab handles, available MTX speakers, textured vinyl, colored accents and a laser-cut Axis badge, the side panel is something you would expect to see in a much more expensive boat. The TriAX Bow is wide enough for a group not just a couple and its open lounge style is the ultimate in comfort. Even the transom has convenience and style built-in with a rider staging seat, tooled in.
The Driver Experience
The Helm of the A20 welcomes a driver and as many as four observers with comfortable seating. The oversized driver's seat is equipped with dual density foam and the dash ergonomically designed for perfect driver control.
At the dash, the Axis gauges include scrolling digital screens displaying everything from fuel to depth to cruise control functions. Three-stage rocker switches command nearly every boat system with ease. The standard power plant provides 335 horses of fuel-injected power. Axis offers the 400 horsepower Raptor engine for those riders that love to show some muscle. Both engines are available with a saltwater package. The A20 extends driver control with rack and pinion steering and a phenomenal ride, even in rough-water.
The Look
The A20's gel coat accents introduce accents of color to a sharp hull and deck design. The A20 has a customizable look. Choose from three gel coat layouts, Straight-up, Flip-side and the available Tricked-out scheme. You can even opt for a completely solid boat available in 18 different colors and 3 metal flake gel coats. Looking to turn a few more heads on the water, pull the trigger on the Vandall Edition Package. Complete with a custom Vandall wrap this special edition A20 is set-up the same way Axis Pro Team Rider Randall "The Vandall" Harris configures his Axis.
The aggressively styled bow finishes the tough look and adds another unique element to this price-point boat. The collapsible FatAX tower combines oversized 3-inch black powder coated aluminum tubing and billet aluminum bases for a one-of-kind rear sweeping wakeboard tower that is easy on the eyes. The FatAX tower is through-bolted to the deck with a backing plate for added strength. No corners cut, just pricing slashed. The Wingless MH Windshield accentuates the rugged simplicity of the A20 and allows the driver to dock easily without leaving the seat.
The Guarantee
All of this performance, accommodation and style is created with production practices and materials approved by the best selling water sports boat manufacturer in the world. Axis Wake Research is offering price-point segment-leading Limited Lifetime protection complete with a 3-year engine warranty including fuel and electrical systems and a 2-year bow to stern warranty, the second year covering parts only.
Specifications
Length: 20'
Beam: 98"
Draft: 27"
Capacity: 11 persons
Weight: 3200 lbs.
Fuel Capacity: 48 gallons
Std HP: 335
Max HP: 400
Std Prop: 13.5x16 Acme 537
Find your nearest Axis Wake Research dealer and head down to experience the 2011 A20 and A22 wakeboard boats in person.
About Axis Wake Research: Axis Wake manufactures high performance, price point wakeboard boats with new levels of quality, performance, style and owner pride. Axis exploded onto the entry-level big wake boat market in 2009 with unparalleled pride of ownership. Carefully sourced components and materials, in-house fabrication, lean manufacturing, unique production processes and strategic sales and marketing, allow Axis to offer low cost wakeboard boats without compromising quality. Axis performance and customer satisfaction is unmatched in price-point market thanks to aggressive grassroots research and development. These efforts revolve around the specific needs and wants of core riders and families alike. Or as the team at Axis Wake Research likes to say and the Axis name implies "We're centered on you."
###