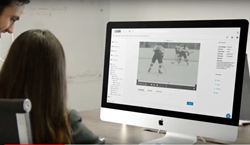 "axle ai has seen strong growth since our founding due to worldwide adoption of our radically simple software to search and manage video content," said Sam Bogoch, axle ai's CEO. "We've found SeedInvest to be an ideal partner and are excited to welcome investors to be a part of our growing company."
BOSTON (PRWEB) November 09, 2018
axle ai, Inc., a pioneering leader in video search and management software, today announced it is launching a funding round on SeedInvest, the leading crowdfunding platform. The site is live today at http://www.seedinvest.com/axle.ai/seed.
As a result of the passage of the JOBS (Jumpstart Our Business Startups) Act in 2012, both accredited and non-accredited investors are able to invest in private companies. SeedInvest makes this possible in practice and axle ai is excited to welcome outside investments through the platform.
axle ai has sold its intelligent video search and management software solutions to over 500 companies worldwide, from media conglomerates such as Turner, CBS and Paramount, to multinational corporations like REI, Reebok, Coca-Cola and Price Waterhouse Coopers. The software, leveraging the latest advancements in artificial intelligence and machine learning, allows customers to tag, search, manage and collaborate with their media in ways that were previously too complex or cost-prohibitive. As video based content continues its global reach as an essential communications medium, axle ai's software solutions provides content creators with a cost-effective and easy-to-use toolset to help manage their video creation process.
"axle ai has seen strong growth since our founding due to the continuing worldwide adoption of our radically simple software solutions for searching and managing video content," said Sam Bogoch, axle ai's CEO. "We've found SeedInvest to be an ideal funding partner and are excited to welcome investors to be a part of our growing company."
###
About axle ai, Inc.
axle ai is the pioneer in developing radically simple video search and management software that takes full advantage of ongoing developments in artificial intelligence and machine learning. As social media drives massive growth in video capture and postproduction, axle ai uniquely addresses a burgeoning need and has caught on rapidly among video professionals in post-production, education, broadcast, corporate, sports, house of worship, non-profit, advertising-marketing, and government organizations worldwide. At its introduction, axle software was recognized with the IBC 2012 Best of Show award and at NAB 2013 with the prestigious DV Magazine Black Diamond and Post Picks awards. axle ai is a privately held company, based in Boston; its founders have extensive industry experience in media software for creative applications. Learn more at http://www.axle.ai.
About Seedinvest
SeedInvest is a leading equity crowdfunding platform that provides individual investors with access to pre-vetted startup investment opportunities. SeedInvest has funded over 150 startups and boasts a rapidly growing network of over 200,000 investors. SeedInvest has had over 25,000 startups apply to raise capital since inception and has only accepted 1% of those companies to feature on the platform. For more information, visit http://www.seedinvest.com.