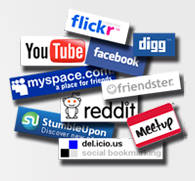 social media package in an effort to stay at the forefront of all that the online market has to offer.
Toronto, ON (PRWEB) March 29, 2013
Showing great success with Facebook marketing for small to medium-sized business over the past 2 years, Axxoo announces an expansion of their social media package to include Twitter, Pinterest, Google+ and LinkedIn.
Axxoo, a lead generation internet marketing agency in Toronto, has been helping companies expand their online reach to meet revenue goals on social media channel, Facebook. In an effort to build stronger relationships with online consumers and transition more prospects into paying clients, Axxoo is initiating social media campaigns on Twitter, Pinterest, Google+ and LinkedIn.
Dov Rivkind, CEO at Axxoo, comments: "Axxoo is delighted to announce that our social media package is expanding. We've had great success with Facebook and are now ready to move on to offering our customers a comprehensive social media package in an effort to stay at the forefront of all that the online market has to offer." Social media is a powerful tool for small to medium-sized companies and we are ready to offer social network advertising all across the board.
Axxoo has expanded their team of marketing consultants and social media experts which have the tools to impact the social media sphere and the ability to reach an untapped goldmine of sales opportunities. By providing the power of social network advertising, Axxoo will engage with potential social media consumers searching for specific brands and products through various social media channels.
Social media marketing has become one of the most effective ways to manage consumer brand perception and customer engagement and Axxoo promises to work within the bounds of strategic goals and measurable targets to impact client ROI head-on.
Axxoo offerings:
Twitter: By gaining followers on Twitter using techniques such as digital storytelling, thought leadership, promotions and various contests and polls, Axxoo will use strong, consistent messages to establish relationships with potential buyers. Twitter advertising will be used to generate an online buzz and open up new consumer avenues.
Pinterest: Axxoo will create "boards" for their clients and share a collection of images pertaining to their products, brands and industry. This will allow companies to organize and share various findings and communicate their brand through the use of relevant images.
Google+: Consumers using Google to find information on specific products and brands will find further company information through Google+. This avenue will reach a market of potential buyers using the search engine and allow companies to appear on Google's first pages.
LinkedIn: LinkedIn will be used as a professional networking platform and communications channel. This powerful business solution will be used to enhance a company's image and influence and will be a great tool for businesses to share information while becoming thought leaders in their field.
Axxoo Internet Marketing is a professional services marketing organization that specializes in adding value to marketing processes through lead generation, social media management, and sales and marketing enablement. Axxoo Internet marketing agency consists of marketing consultants and social media experts that drive initiatives to their 100+ clients ranging from small to medium-sized business. Axxoo's design and technical teams add value through their knowledge of best practices and experience in SEO, PPC, social media, web design, and content and brand development. The team specializes in results-driven, integrated and measurable results. Visit http://www.axxoo.com to learn more.