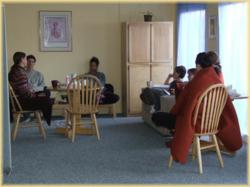 The Ayurvedic massage training provided by CCA Ayurveda institute is one of the most comprehensive programs in the nation.
Sacramento, CA (PRWEB) January 10, 2013
The Ayurvedic Massage & Body Therapy Training Course will be offered April 1-5, 2013, July 8-12, and Dec. 2-6, 2013. The courses require training in Foundations of Ayurvedic Medicine (1 month online training program) or the Ayurvedic Health Educator program (1 year).
The Ayurvedic massage training provides 45 hours of hands-on training in one and two practitioner Abhyanga along with Shirodhara (warm oil treatment over the forehead) and Svedana (Ayurvedic herbal steam therapy). Participants in the course will work in groups of three giving and receiving therapies. An Ayurvedic Massage and Body Therapist is a specialist who works with massage and other therapies which are individualized to the nature of the person and nature of any imbalances that are present. Ayurvedic Body Therapies are a significant part of the healing process in Ayurvedic medicine and are becoming popular in clinics and health spas around the world.
Ayurveda is considered to be the medicinal side to Yoga. It literally means "the knowledge of life", as it teaches how to live harmoniously with our environment and our bodies. Like Yoga, Ayurveda is a holistic science that promotes well-being at the level of the body, mind and spirit.
Ayurveda teaches that disease is the end result of the lack of harmony in our daily lives. Through a variety of natural techniques, including herbal medicines, panchakarma, and lifestyle counseling, balance and health is restored sustainably. Furthermore, Ayurveda believes that every single being needs to receive a fully personalized in order to fully heal, understanding their personal needs.
The California College of Ayurveda is a leading institution offering high quality Ayurvedic training in America. The Ayurvedic Health Educator program is available for the student wishing to integrate their training in Ayurveda with an existing health care degree, massage or yoga certification, or to receive the knowledge for personal growth and self-healing.
The trainings are offered in the primary location in Nevada City, California as well as in Ayurveda Argentina, Colombia, and Mexico. Enrollment is now open for all workshops offered by the school. For more details please visit AyurvedaCollege.com or call 530 478 9100.
"Absolutely loved it. The material is amazing" – Rebekka Fox
"I really enjoyed this program!" – Leah Shankar
"I feel very fortunate to have participated". – Bonnie Kish
"I thoroughly enjoyed every moment" – Micelle Coxon
"Very structured and thoroughly presented in a calm, relaxed and nurturing format. Excellent!" – Linda Martin R.N.
"Excellent Teachers!" – Karly Railsback
"I really felt shifts in my own consciousness and a real deepening of my ayurvedic knowledge" - Farzaneh Kashef