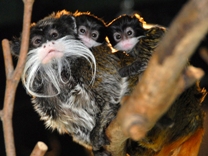 Visiting the AZA-accredited aquarium or zoo nearby is a great way for dads to connect with their kids, especially on Father's Day
Silver Spring, MD (PRWEB) June 16, 2011
The Association of Zoos and Aquariums (AZA) today announced its support for the White House Fatherhood Initiative, with an invitation for dads and their kids to visit the aquarium or zoo near them this Father's Day.
"Visiting the AZA-accredited aquarium or zoo nearby is a great way for dads to connect with their kids, especially on Father's Day," said AZA President and CEO Jim Maddy. "The Association of Zoos and Aquariums is proud to support the White House Fatherhood Initiative because we share a commitment to strong families and healthy communities."
President Obama has said that being a father to Malia and Sasha is the most important job he has. At the same time, growing up without a dad himself, the President understands firsthand the holes that fathers leave in their families when they are absent. The President is joining with fathers across the nation to send a strong message about personal responsibility and 'stepping up to the plate,' while supporting fathers who want to be there for their kids.
This Father's Day, AZA has assembled a list of discounts and special events at aquariums and zoos around the United States to make it easier than ever for dads to take their kids out for a great day of learning, fun and togetherness. Families can enjoy a special crafts and activities or learn about fatherhood in the animal kingdom with keeper talks or tours.
Please visit http://www.aza.org/fathersday/ to find a Father's Day discount or event at the zoo or aquarium near you.
About the President's Fatherhood Initiative
President Obama is supporting the Fatherhood and Mentoring Initiative through sound public policy – including increased funding for local responsible fatherhood programs – and partnerships with community groups around the nation. The President's Fatherhood and Mentoring Initiative works to connect with dads and others around the country and has held town halls in local communities focusing on responsible fatherhood. Find out more information and get involved at http://www.fatherhood.gov.
About the Association of Zoos and Aquariums
Founded in 1924, the Association of Zoos and Aquariums is a nonprofit organization dedicated to the advancement of zoos and aquariums in the areas of conservation, education, science, and recreation. Look for the AZA logo whenever you visit a zoo or aquarium as your assurance that you are supporting a facility dedicated to providing excellent care for animals, a great experience for you, and a better future for all living things. The AZA is a leader in global wildlife conservation, and your link to helping animals in their native habitats. To learn more, visit http://www.aza.org.
Contact: Linda Cendes, AZA, 301.562.0777 x236
###