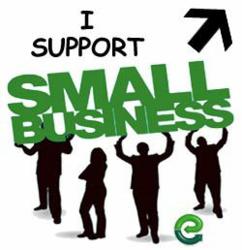 Life, Liberty, and the Pursuit of Happiness - #isupportsmallbiz
St. Petersburg, Fl. (PRWEB) September 28, 2012
During the last several years, outsourcing and globalization have been major challenges for small businesses. This is because a larger number of multinational firms have established locations in regions such as China, India and Brazil. The basic idea is to reduce their labor costs by outsourcing critical functions to these locations. Evidence of this can be seen with a study conducted by the Business Journal. They found that 400 thousand jobs have been outsourced to these locations since 2006. However, by 2015, they expect these amounts to continue to increase with the US losing 3.5 million jobs. This is an average rate of 95 thousand jobs disappearing every month because of these issues.
For communities and small businesses this is troubling. The reason why is because the loss of critical jobs in the region will lead to reduced amounts of consumer spending. This will adversely impact small businesses (who are having trouble making these adjustments). When this happens, the fabric of these communities is destroyed with a larger number of firms closing down and people relocating elsewhere. This is the point that economic blight will become common in many regions that were once prosperous. To help firms address these challenges #ISupportSmallBiz created a Facebook application.
The Facebook Page and Its Impact
The Facebook page was created with the intention of reaching out to policymakers in a single voice. This is when they will have to listen to the needs of these firms. These kinds of tools are utilized by different groups to force public officials to take their viewpoints into account. This platform served as a way for everyone to coordinate and engage in actions that challenged the status quo. Once this took place, is when the needs of the people were taken into consideration over those of the elite and wealthy in society.
I Support Small Biz is taking a similar approach when it comes to globalization and outsourcing. This is because larger organizations have been the ones who are benefiting from these changes. To help smaller firms and communities, the Facebook page was created to serve as a voice for those issues that are most important to them. In the future, this will force policymakers to take these viewpoints into account.
Clearly, outsourcing and globalization are having adverse impacts on small businesses. To address these challenges, I Support Small Biz created the Facebook application. This solution is designed to give smaller firms the ability to have their issues discussed in an open format and presented to public officials. When this happens, they will take into account these ideas during the process of creating policies. Over the course of time, this will reduce the negative impact that outsourcing is having on communities and small businesses. This is the point that all economic policies will be more balanced by addressing the needs of various stakeholders. Once this occurs, is when small businesses will have an organization that is willing to standup for their interests.