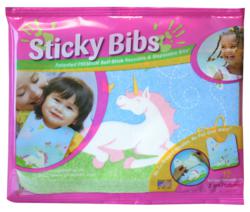 It's made in the USA, supporting American Jobs!
Columbus, Ohio (PRWEB) July 11, 2012
Parents now have an exciting new choice when it comes to using disposable, reusable bibs. 
Sticky Bibs, Ltd. is a growing (Made in USA) bib manufacturer of premium, self- adhesive bibs for children. 
Today's announcement introduces delightfully unique options for parents. The special new designs will appeal to the appetite of America's young girls for eye-catching favorites. Packaged 12 per pack and in a bag with a fresh new look, the brightly colored pink package comes with six of each new design of unicorns and doggies patterns. 
If you're new to the concept, Sticky Bibs are not your typical bib. Unlike the traditional bib types we've all grown up with, new patented Sticky Bibs are self stick and made right here in the USA. What's truly exceptional about these bibs is that they are both disposable and reusable -- not just one vs. the other. So, parents are now provided a unique way to save money and laundry chores, as compared to using traditional bibs.
Sticky Bibs are great for taking on trips. Most parents find them easy to use, and easy to reuse, with the added value of protecting toddlers' shirts. These bibs are different because they self adhere and stay in place like magic, no strings attached. One of the best features: it's made in the USA, supporting American jobs. 
Since it self sticks to shirts, you won't have to use ties or fasteners to hold a bib onto your child. Furthermore, the pressure sensitive adhesive is gentle, and it's already on the backing of each bib. Just peel away the protective release liner and apply the bib to your child's shirts at mealtime. They adhere easily to the shirts of your child and provide especially form-fitting protection around the neck line. You can dispose of each bib when finished, or simply reapply the release liner to the back of the bib and keep an unsoiled bib for multiple uses, making it a real money saver. Because it adheres to shirts, there are no snaps to hook or ties to wrap around a child's neck. So, the problem of irritation to the neck is solved. 
"One of the great features of this bib is that it feels like it becomes part of the shirt, -- it's the one bib that won't float around to attract mess," says Stan Hibler, managing partner at Sticky Bibs, Ltd. "You don't have one of those bibs that drapes around loosely or goes into your child's food bowl so that's a mess saver right there. We're finding that most parents really like the features of this bib", states Hibler. "I think that, for many people, the value of using Sticky Bibs can really make sense at the check out. Using Sticky Bibs will give customers that extra level of control they want on their pocketbooks at retail."
Hibler praises 2Shea Creative Services, a Columbus, Ohio graphics group for coming up with their adorable designs. "The talent there is amazing. We've been truly fortunate to have access to a brilliant team of graphic artists," says Hibler. "To anyone who is starting up with a new brand, you need that."
By providing the additional offering of bibs for girls, Sticky Bibs expects to gain further attention and market-share from consumers.
You can find more information about the appealing new designs for girls from Sticky Bibs at their website http://www.stickybibs.com, or Amazon.com. 
For more information or media inquiries, contact (East Coast) Stan Hibler at 614.284.4129 or (West Coast) Gary Hoerner at 303.814.8300.
About Sticky Bibs
Sticky Bibs, Ltd., is an industry developer and provider of professionally designed and unique products. With offices in Ohio, Colorado and Arkansas, the company's goal is to maintain its leadership position in providing sophisticated, innovative, and premium high end products. Learn more at http://www.stickybibs.com.