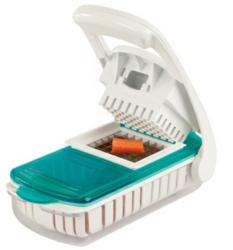 The Munchkin Fresh Food Chopper and Steamer makes preparing baby food at home easy and painless.
San Francisco, CA (PRWEB) March 05, 2013
Homemade baby food is fast and easy to prepare using the Fresh Food Chopper and Steamer, part of the Fresh Baby Food System from Munchkin—the innovative leader in baby products. With new printable coupons from CommonKindness.com, families can save $5 on the purchase of a Fresh Food Chopper and Steamer while also raising funds for their favorite nonprofit organizations.
CommonKindness.com is the free grocery coupon website that empowers shoppers to generate funds for their favorite nonprofit organization every time they make a purchase using a CommonKindness coupon. The company gives a whopping 20 percent of its revenues to nonprofits. The best part is that coupon users get to choose which charities will receive donations generated by their CommonKindness coupon purchases.
Homemade Baby Food, Fast and Simple
Munchkin's new Fresh Food Chopper and Steamer is an innovative tool that allows moms to chop food quickly with its stainless steel cutting blade and then steam it in the microwave. The two-in-one product comes equipped with a cleaning tool and dishwasher-safe parts, and it is BPA free.
"The Munchkin Fresh Food Chopper and Steamer makes preparing baby food at home easy and painless," said Sarah Schloemer, president of CommonKindness.com. "You control what you are feeding your baby, and can ensure that the ingredients are fresh and safe."
"Our Fresh Baby Food System helps parents take their baby's food from "boring" to "bon appétit," said Jeff Kaltreider, vice president, marketing at Munchkin. "The possibilities for feeding baby do not stop at what you find pre-prepared on the supermarket shelves."
To use printable grocery coupons for the Munchkin Fresh Food Chopper and Steamer, shoppers simply go to CommonKindness.com, select the coupons they want, print them out, and head to the store.
Parents can purchase Munchkin products at Target, Wal-Mart, and other fine retailers nationwide.
About Munchkin, Inc.
A privately-held global company headquartered in North Hills, California, Munchkin, Inc. creates baby products that excite, delight, and make life easier for today's parents. Founded in 1991, Munchkin, Inc. has always placed great emphasis on innovation, redefining what baby products can achieve. Munchkin has reinvigorated the category with improvements such as a 2-in-1 bottle brush design and White Hot® Technology that lets moms know if the bath water or the car interior is too hot.
A strategic partnership with Church and Dwight Co., Inc., the maker of Arm and Hammer™® baking soda, resulted in a line of diapering products that work with pure, natural baking soda, including the Arm and Hamer™ Diaper Pail by Munchkin, winner of the American Baby Bests Award. Munchkin, Inc. has won more than 40 industry awards, including multiple wins of the coveted Target® Corporation Partner Award of Excellence, the ASDA Stores Partnership Award, and the Toys "R" Us 2012 Vendor of the Year Award. Endorsed and recommended by sleep and safety experts, medical professionals, toy specialists and parents, Munchkin products can be found at retail outlets internationally.
To learn more, go to http://www.Munchkin.com.
About CommonKindness
CommonKindness is the new free coupon website that operates on the principle of kindness and aims to benefit consumers, nonprofit organizations, and brands. CommonKindness is revolutionizing the online coupon industry by eliminating coupon loading and change costs, charging brands only for coupons redeemed, and donating 20 percent of revenues to nonprofit organizations of each shopper's choice.
To learn more, go to http://www.CommonKindness.com or call (415) 729-9658.