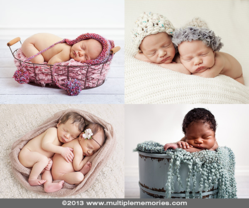 Scottsdale, AZ (PRWEB) March 05, 2013
The most gorgeous celebrities from the Oscars' red carpet have nothing on these babies! Newborn photography specialist, Margie Mobley, has taken the art of baby photography to a whole new level. The public can now view beautiful baby galleries galore on her newly unveiled Multiple Memories Photography website.
The new features of the website include a blog, detailing notes and mini-galleries for many of Margie's photography sessions. Not only do the blog entries give clients a sneak-peak at their own captured memories, they give future clients an idea as to the immense range of photo shoot options available at Multiple Memories. Clients can choose from a variety of unique, handcrafted, and customizable blankets, wraps, hats, and hair accessories. Mobley also offers a huge selection of creative containers in which to pose her tiniest models. As the name suggests, Multiple Memories Photography always has an assortment of coordinating accessories in the case of multiples. When it comes to choosing a baby photography studio, the mini-galleries of the Multiple Memories' blog will speak louder to Mobley's expertise than words ever could!
Other exciting features of the new and improved website include new pricing information, a portfolio of Mobley's favorite photos captured throughout her career as a baby photographer, and what clients can expect from their photo session. Though Multiple Memories specializes in newborn baby photography, they also offer photo packages for toddler, child, and family portraits.
For more information on how Multiple Memories Photography can meet any newborn photography needs, visit their new website today at http://multiplememories.com, or call 602-677-6402.
About Multiple Memories Photography:
Multiple Memories Photography of Scottsdale, AZ, provides professional photographic and portrait services for parents. Clients will benefit from our years of experience in providing parents and newborns with just the right baby photographs that will bring warm memories to photo albums for years to come. We have a large portfolio of gorgeous, modern newborn photographs to review and find the pose that is just right for each client. Call our Scottsdale Photography Studio today at 602-677-6402.