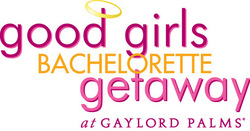 This is something that some girls felt they needed at other hotels.
Kissimmee, FL (PRWEB) September 18, 2007
Las Vegas may have cornered the market on so-called "bad girls" bachelorette parties. But Gaylord Palms Resort in Orlando is looking to provide its own brand of memorable experiences, without the possible need for a "get out of jail free" card.
Gaylord Palms Resort has put a spin on the bachelorette party getaway with the "Good Girls" Bachelorette Getaway. This fully customizable getaway is available for a group of girls, and features an extensive menu of add-on activities for a personalized and unique bachelorette party.
"We've all heard about bachelorette parties that have gone wrong," said Amy Grimes, experience coordinator for the resort's bachelorette program. "In these days of Google searches and MySpace photo albums, a night of fun is hard to hide from the in-laws. Simply stated...what happens at the bachelorette party doesn't always stay at the bachelorette party!"
This getaway, which begins at $169 per room based on a 4-room minimum, is an alternative to a traditional bachelorette party, and was developed from feedback of potential users of the package.
"We started with the premise that Cyndi Lauper was right… that we girls 'just wanna have fun,'" said Grimes. "But, in talking to those who were planning bachelorette getaways, we learned a bit more: foremost, girls just want the planning to be easy."
Because the job of planning the bachelorette party is often delegated to the maid of honor or an overwhelmed best friend, the Gaylord Palms program includes a helping hand from a staff "experience coordinator" to assist with advance planning.
"If you ask a bride, many say they would rather not have a night of chaos," said Grimes. "It's no longer about just the party, but really about spending quality time with the girls. This getaway gives that opportunity."
In fact, the program was designed to accommodate the group in every way, from itinerary creation to assistance with final billing. The program also provides special incentives for the bride-to-be, such as an upgrade to a suite.
"The suite doubles as the perfect 'party room' or gathering place for the group of girls," continued Grimes. "This is something that some girls felt they needed at other hotels."
Armed with a menu of add-on experiences, the experience coordinator can set up activities in the suite or in a host of other locations:

Game Night - a "Truth or Dare" themed game night experience, complete with cocktails and snacks
Spa Related - activities such as a private exercise class or a pedicure party at the resort's on-site Canyon Ranch SpaClub.
In-Suite Fun - including memory-making activities like a champagne toast, a movie night, chair massages, or even a visit from a fortune teller
Gourmet Experiences - such as a private wine tasting or an in-suite "make-your-own-dessert" party
Out & About Town - including numerous options such as shopping sprees with a personal shopper, VIP perks at local night clubs, or a private golf or volleyball tournament
"We can definitely understand and relate to the time and stress that comes with planning a wedding," continued Grimes. "The bachelorette party should be easy for everyone, and it should be what the bride wants. That's why we offer a customizable getaway."
But is there appeal to a "good girls" getaway?
"Good doesn't equate to lame," said Grimes. "There are enough options at the resort, and around Orlando, that every group is destined to have fun."
For more information on an Orlando Bachelorette Party or advice on how to plan a bachelorette getaway, visit http://www.gaylordpalms.com/goodgirls or call 407-586-2000.
About Gaylord Palms
Gaylord Palms Resort & Convention Center has gained the attention of the meeting and convention industry by providing world-class convention and leisure-focused amenities - all in one place. The award-winning Gaylord Palms is a Gaylord Hotels-branded property owned by Gaylord Entertainment (NYSE: GET), a leading hospitality and entertainment company based in Nashville, Tenn. For more information, visit http://www.gaylordpalms.com or http://www.gaylordentertainment.com.
###