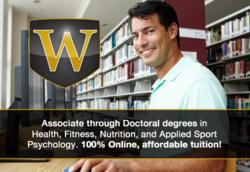 The Wexford Bachelors of Science degree in Health and Fitness is an ideal education foundation for a wide variety of careers.
Rancho Santa Margarita, CA (PRWEB) March 13, 2013
As health and fitness careers continue to outpace other fields in terms of long-term growth and potential, a bachelor's degree in Health and Fitness from Wexford University is more valuable than ever. The online university offers a variety of health and wellness degree programs, with spring classes beginning April 1.
Students interested in becoming a corporate wellness director, fitness entrepreneur, wellness consultant, health club administrator or finding another high-potential career in health and wellness fields can learn more and apply now for spring classes at http://wexford.edu/apply/.
"A health and wellness education is the kind that keeps on giving for decades and decades to come, which is why we're so proud of our diverse online offerings in health, wellness and fitness education," said Jack Bauerle, Chancellor of Wexford University. "Wexford University's online degree in Health and Fitness prepares students for a wide variety of lucrative career opportunities and offers the best instructors in the business, convenient scheduling and affordable tuition."
With classes in Kinesiology, Sport Psychology, Advanced Nutrition, Biomechanics, Ethics and Sport Management and many more, this self-directed online degree is designed for both U.S. and international students and provides discounts for members of the military. Wexford University offers a variety of online degree program, from associates through doctoral degrees. Spring quarter starts April 1, summer quarter continues on June 24 and the fall quarter begins Sept. 30.
"Students interested in a meaningful education that offers a multidisciplinary approach to enhancing health and preventing disease and disability will benefit greatly from our online bachelor's degree in Health and Fitness," Bauerle added.
About Wexford University
Wexford University is dedicated to providing world-class education through cutting-edge technology, offering direct application degree programs in an accelerated format with 100 percent online learning to save time and money. Programs include an associate of arts degree in Fitness Training, bachelor's degree in Health and Fitness, master's degree in Nutrition and Exercise as well as master's degree and doctorate degree in Applied Sport Psychology. Wexford University is the higher education division of NESTA (National Exercise & Sports Trainers Association). For more information, please visit http://wexford.edu/.