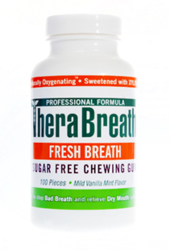 Nothing Works Better and Lasts Longer on Bad Breath than TheraBreath®.
(PRWEB) September 12, 2012
TheraBreath Oral Hygiene Products announces the launch of two great new oral health products that are perfect for Back-to-School fresh breath. Designed for kids and teachers who are heading back to school after summer vacation or anyone needing a powerful, daily breath freshener, these oral hygiene products provide the convenience of single-use packages in containers small enough to fit into a child's lunch bag and book bag or a teacher's purse and briefcase.
To help maintain fresh breath all day, TheraBreath's Oral Rinse Single Use package provides 14 individual pouches (.25 ounces each) containing Dr. Katz's special oral hygiene rinse that dispenses the power of OXYD-8, an oxygenating solution capable of immediately eliminating bad breath. These single pouches fit easily into the smallest purse or bag and offer the ability to freshen breath, enhance oral health and rid the mouth of bitter or sour tastes anytime, anywhere. Because Dr. Katz has already pre-measured the recommended amount of rinse, users simply need to open one of the convenient pouches and gargle for about one minute to freshen breath.
TheraBreath has also released a 100-piece bottle of their popular chewing—that is over eight packs of traditionally packaged TheraBreath chewing gum all in one receptacle. By keeping a bottle of TheraBreath gum pieces in the car, at work and at home, consumers will always be able to hydrate a dry mouth, stimulate saliva flow and freshen breath by chewing one or two, sugar-free, vanilla-mint flavored pieces of TheraBreath chewing gum. To buy the TheraBreath® 100-piece chewing gum bottle, visit: http://www.therabreath.com/gum-mints-strips/therabreath-chewing-gum-bottle/.
This special chewing gum does not contain ingredients that exacerbate dry mouth and bad breath such as ingredients that are found in brand name chewing gums, namely saccharin and aspartame. Instead, Dr. Katz uses only gentle ingredients conducive to overall oral health and clean breath like xylitol, calcium peroxide, sorbitol and natural flavoring.
TheraBreath includes only natural ingredients that are non-abrasive, hypoallergenic and contribute to maintaining excellent oral health in making their chewing gum. These ingredients include purified water, OXYD-8 (a version of CI02 patented by Dr. Katz), essential oil of peppermint, PEG-40 hydrogenated castor oil and tetrasodium.
Although schools have revised lunch menus to include healthier, less sugary food, kids still have access to sodas, candy bars and other food items that cause tooth decay and gum disease. In addition to sharing food with children who bring packed lunches (usually containing some sort of junk food), kids participating in after school activities are often provided with snacks, pop and candy as a reward or treat.
Kids who eat these sugar-loaded foods in the afternoon will not be brushing their teeth until later in the evening before bedtime. This gives oral anaerobic bacteria plenty of time to feed on the sugar that clings to teeth enamel and for bacteria to begin the rapid process of decay that causes cavities, gingivitis and periodontitis.
Additionally, children who have healthy teeth and gums throughout their first 18 years of life experience fewer problems with gingivitis or periodontitis as adults. Research has shown that children who suffer serious dental issues have a much higher chance of excessive tooth loss and even bone infections as adults.
Parents sending TheraBreath gum (if gum is allowed at school) or oral rinse single packages to school with their children can reduce instances of tooth decay and also prevent their children from experiencing the embarrassment of having bad breath. Quick and easy to use, these new, convenient TheraBreath oral hygiene products can also help make a child's six month dental checkup painless and cavity-free.
TheraBreath is also applying a 30-day, money back guarantee in the event the product does not provide the expected satisfaction for consumers who purchase these new and especially convenient oral hygiene products.