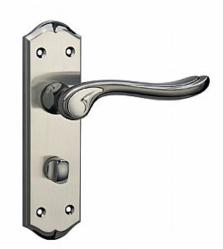 (PRWEB UK) 15 October 2012
Today Door Handles Ltd is continuing its weekly home renovation tips by giving a guide to back plate door handles. A visit to any of the culture and heritage destinations that have existed for centuries will give people a glimpse of these handles. Levers may be the in thing when it comes to door handles nowadays, but lever handles have also been used in many historical buildings. It is thus a delight to every interior designer and even builder to see modern lever versions in various home design shops that carry a variety of handles for doors.
Modern homes are commonly found all over the world so the joy of finding renovated Victorian homes with matching Victorian era door handles is pretty understandable. The door handles have been crafted beautifully that it is easy to feel like one has been taken back in time. While there are numerous shops selling handles for doors, it is not easy to find back plate door handles that suit the architectural design of a home being built or renovated.
Why go for back plate lever handles for doors
Lever handles are one of the best choices for homeowners intending to replace old door handles. These handles are sold in a pack that comes complete with a spindle and screws. The back plates for door handles also come in a variety of materials and finishes including brass for the traditional-style doors, chrome for the kitchen and bathroom and a choice of leather, and nickel for modern doors. More importantly, the back plate door handles are available in a variety of styles such as the following:
Georgian design
The Georgian door handles are great for those who have fallen in love with the 17th century home designs which were inspired by the four British monarchs named George. The handles follow the Georgian simplicity making them a favourite not only in homes but also in office buildings. A brass door lever handle would look good on a Georgian-inspired home. A good example of this handle is the Eclipse Victorian solid brass lever which can last up to 25 years with its sturdy and tarnish-resistant PVD finish. This handle is easy to maintain and requires only warm water with mild soap for cleaning.
Victorian design
Centuries have passed but the Victorian era remains popular among homeowners. Those who love everything grand will understandably opt for Victorian architecture and will use Victorian-inspired back plate door handles. The idea of living in a home with intricate doors and windows and with crystal glass door handles is just too attractive to ignore. Think about flower gardens and vines on the door knobs and levers.
Modern Door handles
For contemporary homes, nothing beats the modern handles for doors which are available in a variety of finishes. Choose from the traditional black handles, chrome and stainless handles and pewter on backplate handles that are available from the leading brands.
Period and modern handles, whether the knob or lever type, are now available online so it is easy to choose the most appropriate handles that will fit the back plates even without leaving the home or office. More than its looks however, it is best to choose handles and back plates that match each other to avoid installation problems later on.