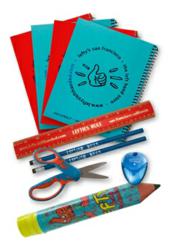 I am so very grateful to Lefty's for giving my left-handed daughter pride and confidence as the uses her tools, made especially for her!
-- Jennifer B.
San Francisco, CA (PRWEB) August 07, 2011
Schools are designed for right-handers, and so are school supplies. Leftyslefthanded.com has developed the world's largest selection of left-handed school supplies, and has just added 2 great new products for the Fall 2011 term.
Lefties struggle with pens that smear, rulers and pencils that read backwards, scissors that won't work, and spiral notebooks that hurt their hands unless turned upside down. Little lefties are often late learning to write as using a pencil is harder than for righties - lefties have to push the pencil, while righties only drag it. Little hands hurt, and EVERYTHING smears as the hands move over what has just been written. Having the correct tools, especially ones that their right-handed friends can't use, can make the difference between success and frustration at school.
Older left-handers struggle as well. The usual 5-Subject spiral notebooks just won't work - the spirals on the left dig into the writing hand. They can't be turned upside down as the papers fall out and the perforations will be on the wrong side. Older kids want to use pens, but these smear far worse than pencils.
Leftyslefthanded.com has developed a custom line of the most popular spiral notebooks. For Fall 2011, Lefty's introduces two new sets, including 4 each of the best selling notebooks, along with a few other basics for value pricing. The Left-Handed Back to School Wide Ruled Notebook Set, designed for younger lefties still developing their writing skills, includes 4 wide ruled notebooks printed with Lefty's left-hand logo, a left-handed 12" ruler, a colorful Fiskars left-handed pair of kids' scissors, 2 pencils printed with the slogan "Lefties Rule" along with the custom Lefty's pencil case in the shape of a fat pencil, and a left-handed pencil sharpener (rotates counter-clockwise). Everything except the scissors says its lefty, so the lefty kid's school supplies won't get mixed up with those of their friends.
The new Left-Handed Back to School Five Subject Notebook Set includes 4 custom 5-subject notebooks printed with "I May Be Left-Handed but I'm Always Right", with 2 of the fast drying jetstream, smooth writing pens. These sets are perfect for high school and college kids - a great way to stay organized.
Lefty's also has more basic Back to School sets without notebooks for both lefties under 10, and those older than 10, as well as sets of Essential tools with either a journal or a writing tablet for both age groups.
With the right Left Stuff, school can be fun for lefties. Right-handed teachers and other kids cannot understand, but then they haven't had to learn to do almost everything backwards. The difference between feeling competent and organized, and feeling like you can't do anything well, is the difference between enjoying school and merely enduring it.
Visit Lefty's San Francisco at Pier 39 or at Lefty's at Downtown Disney in Walt Disney World in Orlando, or visit the website. Contact Lefty's at lefty(at)leftyslefthanded(dot)com.
# # #