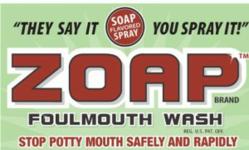 It works on parents too.
Ferndale, WA (PRWEB) September 18, 2012
Procreate Brands, LLC, announces the launch of ZOAP® soap-flavored spray to help parents get their children to stop swearing and using bad language. With a new school year starting, now is the time for kids to pick up bad habits and bad language that they learn in class and on the playground. To help parents curb bad behavior, ZOAP® provides a pain-free, easy-to-use solution to "Stop Swearing Now."
ZOAP® Creator Anna Scott explains, "Having my child swear at me, at his teacher and even at his grandparents makes me think that I am failing as a parent. I have tried negotiating, time outs and even taking the Internet away. But that was before I discovered the secret to a polite, obedient, and well-behaved child. But once I did, it took me just days to stop his bad behavior."
ZOAP® is a soap-flavored confectionary spray flavored with natural and artificial ingredients. It really does taste like soap, which means kids will absolutely hate it. When swearing occurs, simply administer one spray in the mouth and repeat as necessary until the swearing stops. ZOAP® offers a completely 100% hassle-free, money-back guarantee, so purchasing ZOAP® is completely risk-free.
For a limited time, purchasers can get free ZOAP. After purchasing the product, supply Procreate Brands with a testimonial and review of how it worked, and the company will refund the purchase price.
Start the school year right. For more information, or to try ZOAP® risk-free, visit http://www.stopswearingnow.com.
About Procreate Brands, LLC
Headed by designer and inventor Scott Baumann, Procreate Brands develops products and brands that are licensed to the nations top retailers. Procreate Brands has created products and brands in multiple categories including technology, childhood development and toys. Procreate Brands is based in Ferndale, Washington.