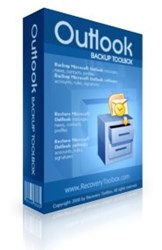 The program enables users to quickly and easily backup Microsoft Outlook data.
Alexandria, VA (PRWEB) November 23, 2012
Recovery Toolbox, a renowned provider of advanced data recovery solutions, is glad to inform potential users of a limited-time 50% discount on Outlook Backup Toolbox, a powerful solution that helps users backup Microsoft Outlook with unmatched ease and speed. The software makes complete snapshots of the state of the user's Outlook PST file and captures every object and record within it: emails with attachments, notes, calendar entries, tasks, contacts and, unlike most of its competitors, passwords. The discount will be valid in the period of November 24 – December 24, 2012. In order to get the discount, users need to enter the coupon code bt50nyrtb on the checkout page - click to start your order.
The software is based on the concept of a simple and easy-to-use wizard that guides the user through the backup or recovery process and requires a bare minimum of previous backup and recovery experience or knowledge of recovery principles.
Created as the most convenient and intuitive Outlook backup tool, the program offers 2 operating modes, allowing users to backup Microsoft Outlook data automatically with a single click or by selecting the objects to be recovered and the destination profile in the manual mode. In any case, the program will help backup Microsoft Outlook faster and more efficiently than any other competitor on the market.
"With Christmas being just around the corner, we decided to give everyone interested a good chance to take advantage of our 50% discount offer ( Enter coupon code during purchase: bt50nyrtb ) and finally become a licensed user of Outlook Backup Toolbox. Merry Christmas and all the best in the coming year!" – said Victor Bobrov, the founder of Recovery Toolbox.
Site: http://www.recoverytoolbox.com
Software: http://www.outlookbackup.recoverytoolbox.com/