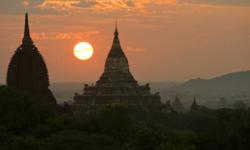 This special temple tour ensures that all the highlights of Bagan and its spectacular plains are soaked up and digested, allowing travelers the chance to connect with the spiritual soul of this fascinating country
Bangkok, Thailand (PRWEB) March 27, 2013
The concise two-day, one-night Bagan temple tour begins in one of the lesser-explored regions of Bagan, in the eastern plains. Here travelers will be guided around some of the more spectacular temples such as the Dhammayazika Pagoda with its 550 Jakata murals made from terra cotta tiles, and the nearby Paya Thone Su Temple complex which features some fascinating inter-connecting buildings. The in-the-know Backyard Travel guide will also take travelers to enjoy an elevated perspective of the plains, allowing them a comprehensive overview of the surrounding area.
The temple tour continues to Ananda Oakkyaung Monastery, which dates back to 1137 AD. The sublime structure contains some of Myanmar's most impressive mural paintings and travelers will have the chance to soak up the atmosphere of the ancient relic before moving on to Sissa Nar Gyi Temple which features a square base decorated by 39 elephants on each side.
Day two continues the investigation of the region's fascinating religious architecture with a two-hour walking tour around the city, again led by a local Backyard Travel guide. The leisurely tour gives travelers the opportunity to soak up every moment of their time in Bagan's spectacular plains and also gives them the chance to spot the small details that might often be overlooked.
Next travelers will pay visit to Ahpae Yadanar to see some unusual mural paintings and then Nagayone Temple on the way to Myinkabar – a small, local village which contains many fascinating temples. Once in the quaint village, travelers can not only explore the religious sites, but observe the local way of life and interact with friendly villagers.
The afternoon of day two allows travelers to choose their own adventure based on numerous options supplied by their expert Travel Specialist, ensuring they get to experience their preference of nearby sites and attractions.
"Bagan is a place you can touch and feel culture all around – it's in the air," said Backyard Travel's General Manager Maeve Nolan. "This special temple tour ensures that all the highlights of Bagan and its spectacular plains are soaked up and digested, allowing travelers the chance to connect with the spiritual soul of this fascinating country."
About Backyard Travel
Bangkok based Backyard Travel is an online travel company specializing in tailor-made tours to Vietnam, Thailand, Cambodia, Laos, Myanmar, Indonesia, Japan and China. For more information about Backyard Travel, visit http://www.backyardtravel.com or Facebook page http://www.facebook.com/BackyardTravel.