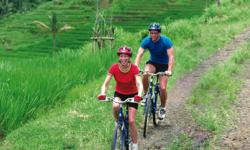 Bike tours are not only an environmentally friendly way to travel, but they allow the traveler to see hidden areas they wouldn't ordinarily discover by bus or car
Bangkok, Thailand (PRWEB) September 18, 2012
Addressing a growing demand for soft adventure, cycling tours by Backyard Travel are targeting travelers seeking an active vacation. Showcasing the picturesque back country of Cambodia, Vietnam and Myanmar, cycling allows exploration of lesser-known areas, allowing travelers a deeper engagement with their destination and a first-hand understanding of local customs.
Backyard Travel's six-day Angkor Adventure tour of Cambodia mixes cycling and trekking for an exhilarating travel experience. Travelers start cycling from Day 1, with a leisurely 17-kilometer journey through rice fields and serene countryside, stopping for refreshments in traditional stilt-house villages. Foot treks through the ancient temples of Angkor and the jungle terrain outside Siem Reap allow travelers to take an active role in discovery, with a closer connection to nature and local culture.
In Vietnam, the Cycle of Life Tour explores the Mekong Delta on two wheels. This four-day tour incorporates home stays and temple visits, passing through picturesque scenery to offer travelers unique glimpses of local life. Perfect for cycling enthusiasts, this tour offers up to 150 kilometers of riding, with the option of upping the adventure with side trips on clay and gravel tracks.
For an unforgettable travel experience in Myanmar, Backyard Travel's Tale of Two Cities tour employs different modes of transport for the journey from Mandalay to Bagan. Starting off with a 25-kilometer guided bike tour of the outskirts of Bagan, travelers are immersed in local life, cycling amid ox carts and school kids. A river cruise to Bagan and optional hot-air balloon ride further showcase this stunning country, keeping travelers active and engaged with their surrounds.
Maeve Nolan, Backyard Travel Product & Operations Director, says: "We have seen a growing increase in requests for bicycle tours, especially in Vietnam and Myanmar. Bike tours are not only an environmentally friendly way to travel, but they allow the traveler to see hidden areas they wouldn't ordinarily discover by bus or car. Vietnam's Mekong Delta is one of the best places in Asia to explore by bicycle, as there are so many tiny back roads and bridges that are inaccessible by larger vehicles. Combine this with boat trips and home stays and you have all the elements for the perfect cycling trip."
ABOUT BACKYARD TRAVEL:
Bangkok based Backyard Travel is an online travel company specializing in tailor made tours to Vietnam, Thailand, Cambodia, Laos, Myanmar, Indonesia and Japan. For more information about Backyard Travel, visit http://www.backyardtravel.com. See their Facebook page facebook.com/BackyardTravel