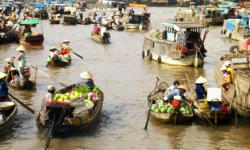 This Vietnam tour gives travelers the opportunity to learn about life on the Mekong first hand, through staying with a local family and enjoying a comprehensive cultural exchange
Bangkok, Thailand (PRWEB) March 08, 2013
The two-day, one-night Vietnam tour begins in Ho Chi Minh City where travelers will be met and escorted to Cai Be in the Tien Giang Province. In Cai Be they will have the chance to pay visit to the fascinating floating market which rests in the heart of the Mekong Delta. They will next take a trip to a local factory where 'pop-rice', rice paper and coconut candy is made.
The Mekong tour continues to Vung Liem where travelers will find the special islet of Long Island, a fabulous retreat made famous by fruit orchards and sedge fields. Here travelers will be able to soak up true local culture by absolute absorption into Mekong life through staying with a Vietnamese family at the only homestay on the island.
While on the island, travelers will have the chance to learn the art of making the local specialty Banh Xeo, a type of savory pancake, and dine with their newly adopted family, exchanging culture and chatting about their differing ways of life.
The next day travelers will arise to a home cooked breakfast and will then be able to explore the island further by bike or on foot. As they pass through the village they will be able to interact with locals and observe the process of cutting and weaving the sedge grass used to make traditional mats and visit the shrine dedicated to Thoai Ngoc Hau, one of the founders of the region.
Travelers will take one last lunch with their newly-adopted family before making the return ferry journey back to Vung Liem where they can visit a Khmer pagoda which dates back to 1377. They will then visit a local market in Vinh Long before returning to Ho Chi Minh City.
"One of the most wonderful and insightful ways to understand a culture is to become fully absorbed by it, like you can with a homestay," said Backyard Travel's General Manager Maeve Nolan. "This Vietnam tour gives travelers the opportunity to learn about life on the Mekong first hand, through staying with a local family and enjoying a comprehensive cultural exchange."
About Backyard Travel
Bangkok based Backyard Travel is an online travel company specializing in tailor-made tours to Vietnam, Thailand, Cambodia, Laos, Myanmar, Indonesia, Japan and China. For more information about Backyard Travel, visit http://www.backyardtravel.com or Facebook page http://www.facebook.com/BackyardTravel.