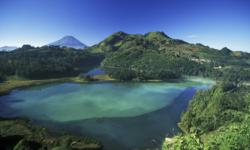 We feel this tour really allows travelers to experience the uniqueness of Western Java and permits them the opportunity to fully comprehend and grasp a life far from what they know
Bangkok, Thailand (PRWEB) November 20, 2012
The nine day / eight night 'Jewels of West Java' tailor-made tour begins by being met at the airport by a guide and private car. After checking-in to the hotel they are chauffeured to Bogor's outstanding botanical gardens, before an afternoon visit to Kopi Aroma, a traditional coffee factory. Once at the factory, travelers will have the chance to observe the roasting and brewing process of Java's famous drinks, including Kopi Luwak, the most unusual coffee in the world.
On the third day guests are taken to Tangkuban Perahu, a smoldering 2,000 meter wide volcano. The stop at the majestic Ciater (also known as Sari Ater) hot springs offers travelers the chance to take a swim in the therapeutic waters. The tour then continues at a nearby tea factory to learn about the growing, harvesting and processing of Java's legendary leaves before stopping at Saung Angklung Udjo workshop. Here guests can see an energizing angklung (traditional instrument made of bamboo) performance by village students.
Day four brings a visit to Garut, with a small stop on-route to enjoy a horse cart ride and bamboo raft trip across a small lake to reach the Temple of Cangkuang in the village of Leles. The temple is the only Hindu temple in West Java and was built in the period of the first Sundanese Kingdom.
The next morning guests will transfer to Pangandaran on the southern coast of Java. Along the way, the tour stops at Kampong Naga, a traditional Sundanese village on the border of the Ciwulan River. On walks around the village, guests can see 100-year-old wooden houses with roofs made of ijuk (a sugar palm fiber) and marvel at a traditional way of life that exists without electricity.
Day six begins with a tour of the local fishing village in Pangandaran and the morning is rounded off with a visit to a krupak factory to see the fascinating process of making krupak crackers, which are made with fish or shrimp and are an integral part of every Javanese meal. After lunch, guests are taken on a cruise along the Green River Canyon to a small, mesmerizing cave where it's possible to swim during dry season.
Day seven is a day of rest and relaxation as guests are driven to Central Java, passing the border at Banjar. The eighth day is kicked-off with an early morning visit to Dieng Plateau, located 2,000 meters above sea level. Here guests can observe the volcanic activity of the Dieng Crater and its beautiful, yet poisonous, sulfuric lake. After lunch, the tour continues to Ambarawa and includes an excursion to Gedong Songo temple complex. Guests then have the chance to take a short horseback ride to the mountain top for spectacular views of the surrounding scenery.
"Indonesia offers travelers a scenic canvas of history and tradition," said Backyard Travel's General Manager Maeve Nolan. "We feel this tour really allows travelers to experience the uniqueness of Western Java and permits them the opportunity to fully comprehend and grasp a life far from what they know."
About Backyard Travel
Bangkok based Backyard Travel is an online travel company specializing in tailor-made tours to Vietnam, Thailand, Cambodia, Laos, Myanmar, Indonesia and Japan. For more information about Backyard Travel, visit http://www.backyardtravel.com or Facebook page http://www.facebook.com/BackyardTravel.