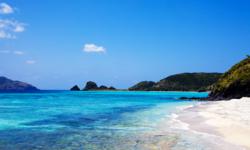 With pristine beaches and spectacular coral reefs to explore, Okinawa and Ishigaki in particular are a dream come true for island lovers.
Bangkok, Thailand (PRWEB) March 14, 2013
The five-day, four-night island trip takes travelers away from the cities and transplants them into paradise. From their postcard-perfect location, travelers will be able to spend their time however they please, doing as much or little as they desire, either worshipping the sun on one of the prefecture's perfect beaches, snorkeling around one of the spectacular surrounding coral reefs or hiking around through the island's lush forests.
"Japan isn't a destination that springs to mind for most travelers when they consider a beach holiday, but Japan's Okinawa Prefecture contains some of the most sensational beaches in Eastern Asia," said Backyard Travel's General Manager Maeve Nolan. "With pristine beaches and spectacular coral reefs to explore, Okinawa and Ishigaki in particular are a dream come true for island lovers."
About Backyard Travel
Bangkok based Backyard Travel is an online travel company specializing in tailor-made tours to Vietnam, Thailand, Cambodia, Laos, Myanmar, Indonesia, Japan and China. For more information about Backyard Travel, visit http://www.backyardtravel.com or Facebook page http://www.facebook.com/BackyardTravel