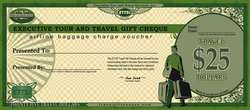 TRAVEL GIFT CHEQUE Baggage Voucher
Daytona Beach, FL (Vocus) August 31, 2010
ETTSI Incentive Premiums, a licensed and bonded seller of travel for more than 18 years and a pioneer in the travel incentives industry, today introduced the "TRAVEL GIFT CHEQUE Baggage Voucher".
TRAVEL GIFT CHEQUE Baggage Vouchers are available in denominations of $25 and $50. The recipient of the voucher will be eligible to receive a rebate up to its face value for baggage check charges incurred while traveling on any major US airline.
ETTSI TRAVEL GIFT CHEQUES are offered to qualified business entities that regularly use premiums and incentives or are interested in starting to us them in their marketing and promotional activities.
Other ETTSI Gift Cheques previously offered are Spa and Golf vouchers that are used for expenses incurred in these categories by travelers when traveling on one of ETTSI's travel certificates. These vouchers are ideal as an added bonus to ETTSI's popular travel certificates such as Executive Travel Rewards, Fly Free America, Passage to Fun, Spectacular Getaways, Vacation of a Lifetime, and Travel Extravaganza.
What makes the TRAVEL GIFT CHEQUE Baggage Voucher unique is that it is the first ETTSI voucher to be offered as a standalone certificate for businesses who want to give consumers an incentive to choose them over competitors who offer similar products and services or to simply motivate them to make a positive purchasing decision.
"Baggage charges can add as much as 15% or more to the cost of commercial airline travel and travelers are getting pretty sick of it." says Frank Bertalli, President and CEO of ETTSI, "This is a terrific way for Incentive Premiums buyers to capitalize on a growing problem in the travel industry by offering this new voucher as a powerful sales incentive in their promotional endeavors."
Certain restrictions apply and minimum quantities are required. For additional information about ETTSI, Travel Gift Cheque Baggage Vouchers and their many other incentive premiums products, you can contact Frank Bertalli at PR(at)ETTSI(dot)com or call 1-866-224-9650.
About ETTSI
ETTSI is registered in the states of Florida, California and Nevada as a Seller of Travel. FL#ST22752, CA#ST2065118-40, NV#2006-0132, offering a full service travel agency as well as many travel and cruise packages in the form of travel certificates. For more than 18 years ETTSI has lead the sales incentives industry with unique programs and products always striving to meet the needs and exceed the expectations of the sales organizations
###