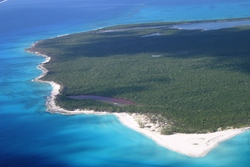 Unspoiled jewel of the Caribbean.
Miami Beach, FL (PRWEB) March 23, 2009
Owning real estate in the Bahamas is becoming a hedge against the declining U.S. economy. As property values drop in the U.S. and in other Caribbean destinations, real estate in the Bahamas has been insulated from this economic free fall.
The Bahamas, long known as an offshore banking haven, provides many tax advantages and incentives for foreign real estate buyers. There are no income taxes, corporate taxes or capital gains tax in the Bahamas other than a nominal transfer tax when purchasing real estate. Bahamas real estate continues to increase in value, as thousands of Americans, Latin Americans, Europeans and Asians are discovering that this sub-tropical heaven is amongst the best places to buy investment real estate.
The "Family Islands", located in the southeastern corner of The Bahamas in particular are amongst the best real estate values in the Caribbean. Rum Cay, Bahamas, located just one hour from Miami, is an extremely affordable alternative for those seeking oceanfront property. Paradise Is Mine, provider of the island's prime real estate, is currently experiencing a land rush from celebrities and professional athletes alike looking for second homes. The Bahamian government has recently enacted legislation making it easier for foreigners to become permanent Bahamian residents; a bonus for foreign investors as well.
The Bahamas' second largest economy is based on foreigner buyers who purchase second homes. The sagging global economy has not affected Bahamian real estate as much as it has other market sectors.
Fallout from the U.S. real estate market has had little effect on the real estate values on Rum Cay. Ted Rover, Sales Director of Paradise Is Mine, which markets oceanfront lots in the Bahamas questions, "Where else can you get an acre on the ocean for $250,000? This is an investment that can be seen as having great value, while having the added benefit of being enjoyable to own. When is the last time your son or your wife enjoyed playing with a stock certificate or an IRA? Especially one that may be dropping significantly in value."
The proximity of the Bahamas to the United States and Central and South America is attracting real estate investors from far and wide. European investors seeking oceanfront property are also finding Rum Cay to live up to its moniker as the "Unspoiled jewel of the Caribbean." The Bahamas and Rum Cay offer real estate investors and people seeking oceanfront property a significant value compared to the United States or other Caribbean locales.
Paradise Is Mine provides investment incentives for qualified buyers wishing to purchase on the island. When seeing Rum Cay for the first time its pristine natural beauty sets it apart as a one of a kind location with the splendor and magnificence of Hawaii just off the coast of South Florida.
The influx of celebrities on Rum Cay is on a parallel course to what Harbor Island experienced within the last 5 years as Tiger Woods, Oprah Winfrey, Shakira, Michael Jordan and other A-Lister's made the Bahamas their destination of choice for second homes. Celebrities and non-celebrities are finding significant real estate treasures in the Bahamas even amidst the uncertainty and volatility in other world markets. This factor further validates the Bahamas as an excellent hedge against external economic conditions.
Paradise Is Mine
1-888-RUM-CAY-8
Ted Rover
http://www.ParadiseIsMine.com
###