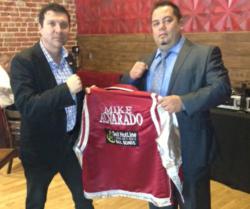 Riverside, CA (PRWEB) March 29, 2013
In their first fight, Brandon "Bam Bam" Rios (31-0-1, 23 KOs) and Mike "Mile High" Alvarado (33-1, 23 KO's) fought what some have called The Fight of the Year of 2012. On March 30, 2013 from the Mandalay Bay Events Center in Las Vegas, NV, both brawlers will step into the ring once again for a highly anticipated rematch.
Having sponsored numerous professional boxers in the past, Bail Hotline steps up again to sponsors Mike Alvarado Boxing Team.
"We are thrilled to be able to support Mike Alvarado Boxing Team on what will be a very exciting night of boxing," announced Marco McGuire, Bail Hotline's VP of Operations. "It's important for us to endorse competitors who represent their communities as positive role models achieving their dreams and aspirations."
About Bail Hotline Bail Bonds
With over 25 offices throughout all of California, Bail Hotline Bail Bonds offers thorough and quality assistance to individuals and families 24 hours a day, seven days a week. A family-owned and operated business, Bail Hotline strives to provide the best bail services in both minor and severe situations. If you cannot make it to one the bail bond offices, Bail Hotline's mobile service can assist you. Call 1-888-958-1228 or fill out our form for more information. Click the link to find a Bail Hotline Bail Bonds location nearest you.