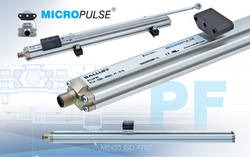 Florence, KY (Vocus) August 18, 2010
Linear position sensors play an important role in today's complex and increasingly efficient manufacturing processes. Providing accurate, reliable, continuous position feedback is only the start. Linear position sensors must also deliver value by being easy to install and easy to use, without taking up valuable space.
Balluff's new Micropulse® PF-series linear transducer is the "Perfect Fit". The Micropulse PF provides accurate, reliable linear position feedback in a sleek, low-profile anodized aluminum housing. Incorporating time-tested, field-proven non-contact magnetostrictive sensing technology, the Micropulse PF represents an unmatched combination of performance, usability, and value.
Unique features of the Micropulse PF:
– Low-profile, space-saving housing (less than 1" high)
– Scalable, absolute, analog output
– Stroke lengths up to 180"
– Bi-color status LED
– Sliding captive or free-floating position magnets
– Assembled in the USA with a 5-day standard delivery
The Micropulse PF transducer can be used in a wide variety of applications such as: plastic injection and blow molding; woodworking and metalforming; material handling and packaging machinery; tire and rubber manufacturing, as an externally mounted cylinder position transducer, and for general factory automation.
For more information, visit http://www.balluff.com/BTL-PF
Editors: See press release online and download high resolution press image:
http://sensors.balluff.com/content/MicropulsePF_PressRelease
Balluff Inc., the U.S. subsidiary of Balluff GmbH, Neuhausen, Germany, is a leading manufacturer of a wide range of inductive, optical, capacitive and magnetic sensors as well as linear position transducers and ID systems. Balluff products for OEM and factory floor solutions are used to control, regulate, automate, assemble, position, and monitor manufacturing, assembly, and packaging sequences for industries including metalworking, automotive, plastics, material handling, wood processing, aerospace, electrical, and electronics.
Editors: please contact Kelly Panko at 1-800-543-8390 for clarifications and additional information, or e-mail Kelly.panko(at)balluff(dot)com
Direct reader service inquiries to: Kelly Panko, Balluff Inc, 8125 Holton Drive, Florence, KY, Phone 1-800-543-8390, or Kelly.panko(at)balluff(dot)com
In Canada only, contact Norman J. Clarke, President, Balluff Canada, 2840 Argentia Road, Unit # 2, Mississauga, ON L5N 8G4, Phone 1-800-927-9654 or
Tel: 905-816-1494, 905-816-1411, E-mail: balluff.canada(at)balluff(dot)ca
###