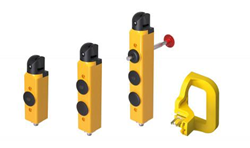 FLORENCE, Ky. (PRWEB) October 05, 2018
Balluff's newest family of mechanical safety switches boast an impressive locking force of 2,500 N and latching force of 10 N, making the guardlock insensitive to vibration even when unlocked.
The line, which is "plug & play" thanks to the use of M12 connectors (5- or 8-pin), includes variants with and without mechanical guard locking (standard tongue switch), or with electrical guard locking to protect personnel and/or processes. The standard tongue version can be used to detect when a guard is opened and then quickly stop the process, whereas the multiple guardlocking versions can be used to "lock" guards and doors until the process has safely come to a halt.
Options for the guardlocking switches include power-to-lock with or without emergency release and with or without auxiliary release. And when properly applied with a safety controller, these switches can meet a high level of safety per EN ISO 13849 and IEC/EN 61508/62061.
The Balluff mechanical safety switches are ideal for securing and safely monitoring guard doors and safety flaps to protect persons from potential hazards and prevent interruption of processes. The slim, robust metal housing fits on commonly used extrusion and a built-in LED provides switch status. These features make the switches ideal for many applications including packaging, food & beverage, automotive, robotics, machine tools, assembly and factory automation.
About Balluff Inc.:
Balluff Inc. is the U.S. subsidiary of Balluff GmbH, Neuhausen, Germany. Balluff is a leading supplier of networked IO-Link control system architectures that unlock the potential of the IIoT and Industry 4.0. Balluff offers a wide range of intelligent IO-Link and industrial Ethernet sensors in a variety of technologies including inductive, photoelectric, capacitive, and magnetic as well as magnetostrictive linear position sensors, magnetic tape linear encoders, industrial RFID systems, and industrial vision systems. Balluff provides cost-saving, process-enhancing solutions to machine builders and manufacturers to control, regulate, automate, assemble, position, and monitor manufacturing, assembly, and packaging sequences. Industries served include: automotive, packaging, food processing, beverages, tire, primary metals, conventional and alternative energy, semiconductor, plastics, and fluid power.