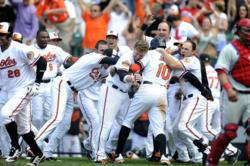 ...Baltimore Orioles tickets have received a huge 30% reduction for the remainder of the 2012 season at TicketHunterOnline with promo "WICKED".
Baltimore, MD (PRWEB) September 13, 2012
With only 20 games remaining in the 2012 season, the Baltimore Orioles share the number one spot in the American League East, with the NY Yankees. TicketHunterOnline.com has responded by reducing all Orioles tickets by 30%, for the remainder of the season.
Surprisingly, the Orioles have racked up over 80 wins this season, with 18 of them over .500. This has not only made Baltimore the top team in the league for 2012, but has also placed them in the best position they've been in since 1997 (15 years).
The remainder of the season will present challenges for Baltimore however, as the team awaits the final word on an injury to Jason Hammel's right knee from Tuesday's game.
Hammel said he felt something "grab" in the knee, and he will be evaluated this week by Orioles doctors. He had surgery (arthroscopic) on the same knee in mid-July, and Tuesday was just his second start since returning from the disabled list.
"We've been down this road many times this year," Buck Showalter (Orioles manager) said. "Every club does. It's part of it."
Hammel exited with the knee ailment after 3 2/3 innings. The only hit he allowed was a solo homer by Tampa Bay's Ryan Roberts in the third inning. The Baltimore bullpen did an effective job in closing out a 9-2 win.
In his first game back, Hammel had allowed one run in five innings of Thursday's series-opening win against New York. That day, he was hit on the right elbow by a line drive... he still remained in the game.
The Orioles have played without Hammel in July and August. They may have to do so in September, too.
All Baltimore Orioles tickets, in addition to NY Yankees tickets have received a huge 30% discount for the remainder of the season at TicketHunterOnline with promo "WICKED", which consists of home games versus the Yankees, The Athletics, the Red Sox, Blue Jays, and Mariners among others.