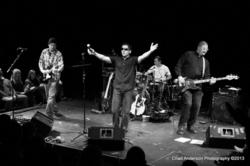 Fairfield, CT (PRWEB) March 08, 2013
Fairfield Theatre Company welcomes three great shows to StageOne in celebration of all things Irish. Adrienne Cook once said, "St. Patrick's Day is an enchanted time - a day to begin transforming winter's dreams into summer's magic." FTC wants to bring that magic to its fans as they welcome U2Nation, Black 47, and Declan O'Rouke to StageOne.
Starting off the Irish festivities on March 17 will be one of the elite tribute bands in the Northeast, U2Nation. U2Nation delivers breathtaking recreations of the sights, sounds and passion of a U2 concert. With their attention to detail in sound, showmanship and overall production, U2Nation has earned praises from the most critical U2 fans and enthusiasts.
It is apparent that the chemistry between singer Albert "Bono" Saadi and guitarist Matt "The Edge" Dooley runs deep. Having played music together since the third grade, both channel their respective roles and have set the bar for tribute greatness that unquestionably achieves the hallmark U2 sound.
What makes U2Nation such an elite tribute band is the fervor that all four members have for the music of U2 and how they demonstrate that same passion on stage. Not only do they look, sound and play vintage equipment which was once used by the members of U2 on previous tours, they project an energy that audiences can't get enough of. Whether it's singing in their seats, or dancing on stage with the band, audiences become part of the show, which is why they have been called, "one of the country's best U2 tribute bands" by The Atlantic City Press. Grab your friends and a pint and celebrate St. Patrick's Day with FTC as they welcome back U2Nation.
Following U2Nation on March 23, FTC welcomes New York Irish pioneers Black 47. Black 47 are among the bands that changed Irish-American music irrevocably when they burst out of MTV screens with their hit single, "Funky Ceili". The band introduced a new generation to the literature, politics and soul of Irish culture. Taking their name from the darkest year of the Irish Potato Famine, Black 47's music, though sometimes based on traditional melodies, is laced with rock, reggae, hip-hop, New Orleans and modern jazz, and of course always has audiences screaming for more.
But the luck of the Irish doesn't end there, as Fairfield Theatre Company brings a taste of the green isle to Fairfield with Declan O'Rouke on April 19. The multi-platinum artist in his native country is best known for his rough vocal style and intricate string and piano laden arrangements. Since his last sold out show at StageOne in February of 2012, O'Rourke has been busy writing and performing with U2's Bono, Damien Rice, and Bob Geldorf among others. He also performed at the Electric Burma concert honoring Nobel Peace Prize winner and Burmese prodemocracy leader Aung San SuuKyinn in Dublin.
Guests are welcomed to come down and celebrate the luck of the Irish with three great shows at Fairfield Theatre Company and come witness these acts which are a pot of gold in themselves.
U2Nation performs March 17 and concert tickets are $22 in advance. Black 47 performs March 23 and tickets are $32 in advance. Declan O'Rourke performs on April 19 and tickets are $25 in advance. All performances begin at 7:30 p.m. and members receive $3 off tickets. Tickets can be purchased online at http://www.fairfieldtheatre.org.
StageOne is located at 70 Sanford St., Fairfield, CT 06824.
About the company:
Fairfield Theatre Company is a highly-acclaimed nonprofit performing arts organization located in the heart of downtown Fairfield, Connecticut. FTC presents nearly 200 performances and concerts each year featuring outstanding national talent on FTC's StageOne in Fairfield and at The Klein Auditorium in Bridgeport. FTC's intimate 200-seat StageOne venue is widely recognized as being one of the best places to see a live music and entertainment in the region. FTC is dedicated to providing the highest quality arts, entertainment, and educational experiences to the communities we serve in Fairfield County.