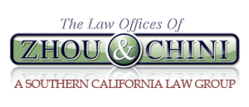 Bankruptcy attorneys in Temecula offers a free 30 minute consultation
Temecula, California (PRWEB) March 10, 2013
When filling a petition for bankruptcy in Temecula California, there are many different legal formalities, and bankruptcy attorneys Zhou & Chini has assisted people in different ways. The bankruptcy firm is releasing another video because they believe it is the most efficient marketing methods. The bankruptcy attorneys in Temecula are skilled in the ways in which bankruptcy cases have to be handled. There are a lot of people who file for bankruptcy because they find it hard to deal with the increasing expenses, and many are still recovering from the housing market collapse that happened in Riverside County California. The Temecula bankruptcy attorneys have been helping such people in choosing the right Chapter of bankruptcy to file. There are different forms that can be filled and the lawyers make it a point to assist its clients by giving them the details of the type of bankruptcy that is likely to be of help. When people are made to understand the difference between the different types of bankruptcy chapters, they would have a better idea of the type of bankruptcy can serve their purpose. The Bankruptcy attorneys in Temecula have been exploring the different marketing methods that they can use for the sake of promoting their services. It is important for the bankruptcy lawyers to engage in the right set of marketing activities because without the right marketing activities, the attorneys would not be able to maintain their top position. To view the latest video from the firm visit, https://www.youtube.com/watch?v=-4EoJx8FkHk
The Bankruptcy attorneys Temecula have decided to launch a new promotional video as the video will explain the different type of services that the company has been providing. Along with details of the different services, the video will also illustrate the important points related to bankruptcy laws. When a person goes through these laws, they would have a better understanding of the total bankruptcy process. The Temecula attorneys have put in a lot of effort for their promotional video, and they are hopeful that the video will help them in educating individuals in the bankruptcy process. If the number of clients can be increased, their business is sure to improve and they will be able to serve their goals, and accomplish their business objectives. So, all those who are going through a rough patch and are looking to use the service of the finest bankruptcy lawyers in Temecula can watch out the promotional video, or visit the website of bankruptcy attorneys Temecula and get the required details and book a free appointment here, http://www.bankruptcyattorneytemecula.com/
Zhou & Chini have been assisting people in the field of bankruptcy in Southern California for years. They are well versed in the different details of bankruptcy, and they are looking to further increase their growth and the reach of their services as well. The promotional video which they released is likely to help them in retain more clients. New bankruptcy laws in California have also been updated to require bankruptcy filers to reside in their state at least 2 years before they can file for Chapter 7 or Chapter 13 bankruptcy. The residency provision was added to stop individuals from moving to states that had more consumer friendly bankruptcy laws. To learn more about bankruptcy or to speak with a bankruptcy attorney in Temecula contact the firm directly.
The Temecula bankruptcy attorneys works the best SEO professional in the industry to assist in law firm marketing to promote the message about the importance of speaking with a bankruptcy lawyer in Temecula CA, if someone is considering filing. The firm continues its online presence by offering zero cost bankruptcy information on bankruptcy firm's blog and social media pages. This information along with free consultations the firm hopes to attract more Temecula residents looking for financial relief. To learn more information view the bankruptcy attorney Temecula Facebook page, http://www.facebook.com/BankruptcyAttorneyTemecula
About the Firm: The Law Office of Zhou & Chini servicing the cities and counties of California. He is a graduate of UCLA and has been practicing law since 1999. Mr. Zhou has a wealth of experience in bankruptcy, civil litigation, family law, criminal law and unlawful detainer. Zhou and Chini Law Offices provide bankruptcy assistance to Orange County, Los Angeles, and San Diego residents.
For more information about using a bankruptcy attorney Riverside law office, call toll free.
Contact: Ron Chini
Website: info(at)bankruptcyattorneyorangecounty(dot)org
Phone: 888-901-3440