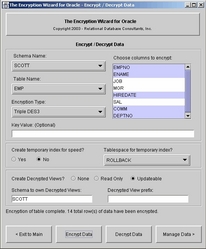 In an effort to protect sensitive data and ensure PCI compliance
Philadelphia, PA (PRWEB) March 23, 2009
Today's Banner SunGard Summit in Philadelphia marks the two-year anniversary of the unveiling of the Encryption Wizard for Oracle to the Banner SunGard community as the transparent database encryption solution of choice for the Oracle RDBMS.
Visual presentations and specifications of the Encryption Wizard for Oracle are available at: http://www.relationalwizards.com.
Faced with increased incidents of data-theft, today's college and university security managers strive for PCI Compliance through data-at-rest encryption. Using the automated Encryption Wizard software suite, Banner SunGard data such as SSN and Credit Card information has been successfully encrypted while resident within the Oracle database.
Compatible with both Standard and Enterprise editions of the Oracle RDBMS, the Encryption Wizard for Oracle affords Banner Sungard users advanced AES cryptography for their data-at-rest, without the need purchase Oracle's Advanced Security Option (ASO).
"In an effort to protect sensitive data and ensure PCI compliance," says Ryan Merrill, DBA for Utah State University, "the University implemented the Encryption Wizard to encrypt credit card numbers, social security numbers and sensitive payroll information in its Banner ERP repository."
"The Encryption Wizard for Oracle is easy to use, cost effective, and its updateable views enable transparent integration with Banner," noted Merrill after the University's successful migration to AES encrypted data. "This is an excellent company, and an extraordinary solution for transparent database encryption."
In the original SunGard Summit Presentation given in 2007 by Dave de Manbey of University of Hartford, a four-phase methodology was utilized to encrypt Banner data within the Oracle database. Each successive phase allowed the University of Hartford to encrypt sensitive Oracle data for ledger, payroll, HR, financial aid, document imaging, student and AR modules of SunGard.
"Transparent encryption, good performance, and low cost make the Encryption Wizard a winner," concluded de Manbey, who headed the university's project to encrypt their relational data. "Performance for the Encryption Wizard is outstanding, and it is the product I would recommend to anyone for purchase."
The Encryption Wizard, written by RDC Software, has been protecting Oracle databases since 2002. RDC is committed to helping Banner Sungard users migrate applications to secure encrypted datasets.
Free trial downloads of the Encryption Wizard for Oracle are available at:
http://www.relationalwizards.com/html/encryption_oracle.html
###