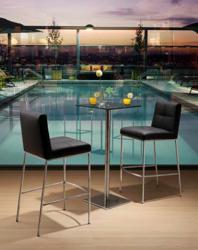 Bistro tables and bar stools will bring some of the comfort, convenience, and style of cafes and cocktail bars into a home.
(PRWEB) November 20, 2012
HomeThangs.com – the Home Improvement Super Store has made their goal to deliver the right product to the consumer, with that in mind, shopping and home design tips, as well as special product selections are being introduced.
Bistro tables – the tall, sometimes delicate tables that come to mind when you think of a Parisian cafe or maybe a trendy nightclub. They're the kind of tables often seen when going out, but not so much in the home, and it's a distinction worth breaking, so HomeThangs.com offered top six ways to use a bistro table or bar table in a home.
1. Table for Two
Whether or not married, all couples can use a little together time, and there are few ways to eat or drink that are more intimate than pulling up a pair of stylish Flick Chairs to a small, snazzy table like the Mimosa Bar Table from Zuo. For a big family, the main dining table is a pretty busy place, from big meals to homework helping, and many of the childless couples tend to use their dining table as a junk mail graveyard. Eating together is an important element of closeness, and having a special, sacred place to eat together (even if it's only once in a while) is a great way to help strengthen the relationship.
2. Corner "Getaway"
Because there aren't so many bistro tables or bar tables in homes as often in the "wild," having one in a home is a great way to bring a little of that setting into the home. Even a simple bistro table like the Zuo Xert Table is easily dressed up with the surrounding decor – put a few Parisian-themed prints on two walls in a corner, or a stylish pair of tall, modern chairs like the Zuo Dalton Chair and and the space will be completely transformed without taking up too much space.
3. Add Seating to Odd Spaces
The slim, svelte height of bistro tables and bar stools gives them the unique quality of being slightly see-through. While large dining tables can really dominate a space, bar tables and chairs like the Clyde Table and Agnes Chairs from EuroStyle are tall but small and narrow, so they're easy to look past. That makes them an excellent way to add more seating (and surfaces) to odd "leftover" spaces in a home without making them look crowded.
4. Entertainer's Delight
Tall bar tables and chairs are as much a mainstay of bars as they are of bistros, and not just for the aforementioned reason that they don't take up a lot of visual or physical space. They also encourage interaction. Unlike sit-down dinner tables, with a bar table like Zuo Christable Table, someone standing and sitting will be at about the same height. It offers an easy, compact place to put down or pick up a drink while passing by, and a seat on a Marius Stool that won't force one to bow out of the party. For those with larger homes who do a lot of entertaining, a room dotted with a few of these will definitely encourage mingling. The table folds away and the bar stools stack for easy storage between parties.
5. Table with a View
If having a picture window, balcony, or patio with a nice view (even if it's just of the back yard), setting up a bar table is a good way to enjoy it, a cup of tea, and a little vitamin D. Plus, bar tables and bar stools like the Box Chairs from Zuo are lightweight and easy to move out of doors in nicer weather. While not all bistro tables and chairs are meant to be left outside, they're a great option for a small porch or balcony to soak up some sun but not have to stow not-for-indoors patio furniture in the off season.
6. Dress Up or Dress Down
One of the greatest things about bistro tables like the Zuo Chardonnay Bar Table is that their simple design makes them supremely flexible. They add a touch of personality, but depending on your backdrop, and on the chairs paired with it they can serve as anything from a cozy, intimate breakfast nook for two to a swanky cocktail-lounge style. And because the tables are small and usually made out of metal or glass, there's no need to worry about adornment (tablecloths, pads, place mats, or seat cushions) – just dress it up with a pretty vase and fresh flowers, and that would give all the style needed.
HomeThangs.com is not only a home improvement superstore, it also provides expert design tips and a comprehensive shopping guide, taking the ideas from professional interior designers, and offering tips to the consumers on how to pick the products to best suit their needs.