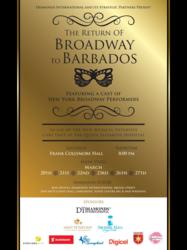 The initiative is being undertaken by major sponsors, led by Diamonds International, in support of the Queen Elizabeth Hospital (QEH)], Barbados' primary acute care medical facility.
(PRWEB) March 06, 2013
Broadway to Barbados, the show that was performed to sold-out audiences, will once more be staged in the Caribbean island. It has been revived in support of the Queen Elizabeth Hospital and it will feature a cast of well-known New York Broadway performers, the full list of whom can be found at Totally Barbados.
The Broadway to Barbados show returns to the stage during the last two weeks of March 2013.
Broadway to Barbados was performed before capacity crowds in the Frank Collymore Hall, when it was stage between 2001 and 2007.
The show returns to that venue from March 20th to 23rd, as well as the 26th and 27th.
The initiative is being undertaken by major sponsors, led by Diamonds International, in support of the Queen Elizabeth Hospital (QEH), Barbados' primary acute care medical facility.
Proceeds To Fund Equipment
The specific goal is to provide state-of-the-art sophisticated diagnostic equipment for the anticipated new Medical Intensive Care Unit at the QEH. That unit is expected to be in operation early this year.
QEH Chief Executive Officer Dr Dexter James has already indicated that the hospital's revenue does not come close to covering its expenditure.
For this reason, he has embarked on an outreach program that encourages businesses and other organizations to support the hospital, thereby helping to cover some of its expenses.
Broadway to Barbados will assist in this regard. The money raised will also be used to purchase any additional equipment required and a cash reserve maintained to pay for any necessary repairs.
Money Kept in Trust
A Trust fund will be established to hold the funds raised and a small committee, comprising people from the business community, will work with QEH representatives to identify the most cost effective piece of equipment available.
The cash reserves for future maintenance will also be administered by the committee.
Corporate Barbados, as a whole, is being encouraged to support the initiative.
If the business community gets fully involved, Broadway to Barbados could become an annual show, with its proceeds going towards the critical equipment needs of the QEH.
About Totally Barbados and Brecal Inc.
Brecal Inc., operating under the name 'Totally Barbados' was founded by Brett Callaghan and is based in Barbados in the Caribbean. The company was incorporated February 24th, 2005.
Barbados island travel tourism guide, Totally Barbados provides both visitors and locals detailed information about the island Barbados.
Thousands of tourists, visitors and locals alike use Totally Barbados every day to find restaurant and hotel locations/reviews and to stay up-to-date on current events and attractions, along with other business and tourism information about the island of Barbados.
Totally Barbados is the primary online source for information that would be of interest to people seeking to learn about Barbados or thinking about visiting the island. By providing timely information for visitors and locals alike is the intention to further cement our position as the leading online source of information for all things Barbadian.
Find travel and tourism guides on both information and establishments, pertaining to the rich culture and history of Barbados.
Media Contact
Founder and Managing Director
Brett Callaghan
Brecal Inc. / Totally Barbados
140 B Durants Fairways,
Christ Church, BB17097,
Barbados
For more information on Brecal Inc. / Totally Barbados, please call 866-978-5898 or 246-420-2420.
Email: service(at)totallybarbados(dot)com
Information received and complied by Brett Callaghan and supporting staff of Totally Barbados.