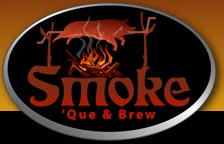 Smoke 'Que & Brew's goal is to serve the highest quality bar-b-que and related dishes at reasonable prices,
Champaign, IL (PRWEB) March 16, 2013
From the beginning of a meal to the end, Champaign's Smoke 'Que & Brew introduces two new menu items to ensure that everyone will discover something new to enjoy this St Patrick's Day.
Looking for a great Corned Beef n Cabbage? Try Smoke's new delite, featuring a mouth watering beef with parsley potatoes. The other new selection will be Smoked Bangers 'n Mash composed of the tastiest sausages and mashed potatoes. Champaign's best known Bar-Q-Que restaurant knows customers will love the selections for such a fun and festive holiday.
Smoke 'Que & Brew will also be initiating three new beers in celebration of St. Patrick's Day – Innis & Gunn Rum Cask Oak Aged Beer, Victory Donnybrook stout and Irish Nitro Stout
"Let your stomach be your guide and enjoy our delicious fare," Sean Mahaffey of Smoke 'Que said. Smoke 'Que & Brew's goal is to serve the highest quality bar-b-que and related dishes at reasonable prices, and in a fun and interesting atmosphere. Smoke 'Que n Brew hopes customers discover a warm and friendly restaurant to come back to time and time again.
For more information about Smoke 'Que n Brew or any of its products, call 217- 355-3855, view the company on the web at http://www.smokebbqchampaign.com or visit 2411 Village Green Place Champaign, Illinois 61822
About Smoke 'Que & Brew
SMOKE 'Que & Brew is a new twist on the BBQ theme restaurant. Rather than being "cowboy" style, or laden with memorabilia on the walls, SMOKE offers what we refer to as "Comfortable, Casual Barbeque."
Our barbeque is authentic, hickory-smoked goodness. It's served to you with our carefully prepared side dishes and fresh corn bread loaves by attentive staff at your table. There's no loud music or rush for you to finish...we welcome our guests to linger over our famous, hot-from-the-oven deep-dish Chocolate Chip Cookie.
The "Brew" part of our name represents the 12 excellent draft beers we offer, as well as the other 25 bottled and canned brews from around the country. Most are from microbrewers; all are unique and worth sampling.