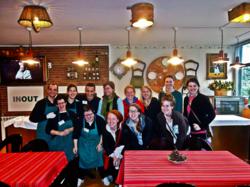 By the end of the day, all the student volunteers felt rejuvenated, enthusiastic and uplifted after spending time with such positive forces and the inspiring folks at InOut.
Barcelona, Catalonia (PRWEB) March 13, 2013
In a city that hosts millions of tourists each year, it's rare to find an establishment with a goal other than that of filling their beds each night for as much as they can charge. Just outside vibrant seaside Barcelona, Spain exists the exception: InOut Hostel Barcelona. InOut employs men and women with physical and mental disabilities and offers beautiful and comfortable facilities. InOut Service Manager, Noemi Caparrós, reminded the group that InOut is different in that they are not looking for high profit margins; their mission is to create more jobs. The Hostel's progressive practices are complementary to Barcelona SAE's study abroad programming, in that participants are encouraged to learn experientially through volunteerism, cultural immersion, group discussions, and regular reflection.
So, it made sense for Barcelona SAE staff to bring their spring participants to InOut Hostel for Volunteer Day. The group spent the first part of the day touring the hostel grounds led by an InOut employee, learning about the hostel's history and special cause, and meeting and chatting with several employees and staff volunteers. The student volunteers then set to painting the walls of a function room and brainstorming techniques for the hostel to improve business and create more awareness through social media. The social media savvy student volunteers offered dozens of suggestions related to Facebook, Twitter and various hostel booking sites; promotions and contest suggestions, in addition to other features the hostel could include to generate internet traffic.
To reflect on the day's activities and the students' time so far in Barcelona, Barcelona SAE staff member Amy Salk led a unique "Intercultural Competence & Yoga" program. In addition to presenting the ideas of intercultural communication and competence, this 45-minute session introduced students to the five main pillars of the yoga practice: patience, strength, mindfulness, balance and flexibility. Salk, currently pursuing her M.A. in International Education, concluded the yoga session by asking the Barcelona SAE students to relate the five yoga pillars to intercultural competence, which they in turn used to reflect on their experiences in Barcelona.
By the end of the day, all the student volunteers felt rejuvenated, enthusiastic and uplifted after spending time with such positive forces and the inspiring folks at InOut. Student volunteers mentioned how impressed they were with the grounds, how eager they were to help the cause, and updated their Facebook pages with information about volunteering and the hostel itself. Barcelona SAE staff is looking forward to making Volunteer Day and Intercultural Competence & Yoga a mind, body and soul staple to each semester.
About InOut Hostel Barcelona: InOut Hostel Barcelona offers sport courts, a swimming pool, a restaurant and beautifully clean, well-kept, and safe rooms. The Hostel is an ideal place for backpackers, school or sports groups, youth associations and all people looking for an economic, comfortable, and socially progressive experience. Opened in 2005, InOut Hostel is Europe's first hotel service with 90% of its workforce comprised of employees with mental and physical disabilities. More information (in English) can be found at http://www.inouthostel.com/en/
Barcelona Study Abroad Experience (SAE) specializes in Barcelona Study and Intern Abroad. We focus exclusively on this cosmopolitan, Mediterranean capital to provide superior quality study and intern abroad program options that always incorporate a strong intercultural element. Students have a wide variety of academic options to choose from and interns come from all disciplines to develop their professional portfolio. We provide the opportunities for students to grow personally, academically and globally utilizing the city of Barcelona and its components as the classroom. We work directly with universities and with other study abroad organizations to offer semester and summer study options, internships any time of year, and academic faculty-led programs.