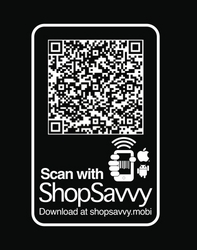 We believe QR Codes have tremendous potential in the United States and worldwide, and we are actively working with retailers and other brands to leverage this technology in creative ways
Dallas, TX (Vocus) September 2, 2010
Big in Japan, the leader in barcode-powered shopping by mobile consumers, announced the release of its standalone QR Code Reader and Scanner in the iTunes App Store. The free app is designed to drive awareness and usage of QR Codes among mobile users. Big in Japan is the developer of ShopSavvy®, the local retail shopping companion for more than 6 million mobile users worldwide.
"Although ShopSavvy scans QR Codes along with traditional UPC and EAN barcodes, many ShopSavvy users have requested a standalone QR Code reader," said Alexander Muse, co-founder of Big in Japan. "We hope the new, single-function app will spur more consumers to seek out QR Codes – and more brands to incorporate QR Codes in their marketing efforts."
The move is the latest in Big in Japan's efforts to drive use and adoption of QR Codes by consumers and businesses. QR Codes, a Japanese technology, are two-dimensional barcodes that can store far more information than one-dimensional UPC or EAN barcodes, making them ideal for marketing and advertising use.
Earlier this year, Big in Japan launched the "Scan with ShopSavvy" program to encourage retailers to incorporate QR Codes in their marketing efforts. Also this year, the company acquired Snappr, creator of the first iPhone application capable of scanning QR Codes, to incorporate its technology into ShopSavvy.
"We believe QR Codes have tremendous potential in the United States and worldwide, and we are actively working with retailers and other brands to leverage this technology in creative ways," Muse said.
Businesses that are interested in learning more about the "Scan with ShopSavvy" program may email sales(at)biggu(dot)com.
Consumers may download Big in Japan's QR Code Reader and Scanner at the following link: http://tinyurl.com/QR-Code-Scanner.
About Big in Japan
Big in Japan Inc. is the leader in barcode-powered shopping by mobile consumers, with more than 6 million users generating 50 million product scans per month through the company's ShopSavvy® application and the applications of third-party licensees such as CNET and PriceGrabber. Big in Japan's UPC/POS mobile advertising framework reaches consumers at the point of highest purchase intent, sharing promotions, coupons and other relevant information about scanned products. Big in Japan maintains one of the largest price comparison engines for local and online retailers, with links to the pricing and inventory systems of 20,000+ retailers worldwide. Big in Japan is funded and incubated by Architel, a Dallas-based managed services provider. For more information, visit http://www.biggu.com.
# # #